Specification:
Number of sensors: 8
Dimensions: 75 x 127 x 4 mm
Supply voltage: 5 V or 3.3 V
Consumption of current: under 100 mA
Output signal: analog
Output voltage range: 0 V for supply voltage
The optimal distance for measurement: 3 mm
The maximum distance for measurement: 6 mm
Weight: about 3 g (without connectors)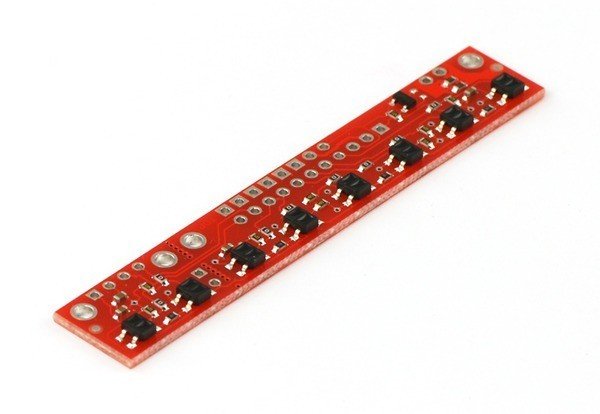 The strap can be used in robots such as linefollower (detecting the position of the line). It has a built-in MOSFET transistor that allow to disable the sensors to save energy, or change the intensity of illumination of the infrared LEDs.
There are several methods to use the output signals, e.g.:
built-in into microcontroller, comparator or ADC converter to measure voltages
using the analog comparator and the reading of the measurements in the digital form
The strap can be used via the moduleof Arduino by connecting the outputs of the sensors to the analog inputs.
If necessary, the module can be divided into two independently operating straps, just likeon the picture below: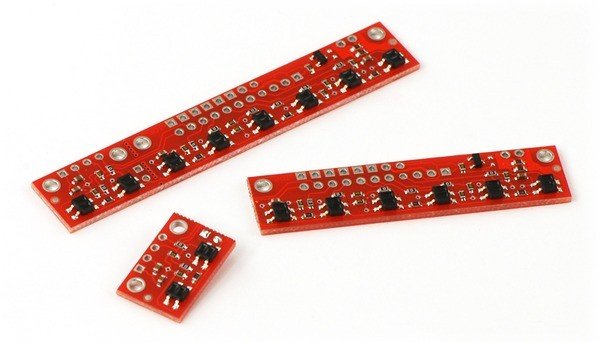 The division requires the soldering of the only one supplied resistor.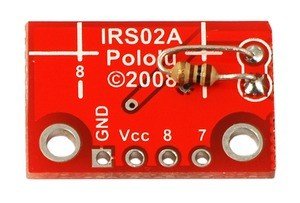 Diagram of the module: