Product description: SHT35 - digital temperature and humidity sensor I2C
DFRobot temperature and humidity sensor withI2Ccommunication.Its operation is based on the Sensirion SHT35 sensor chip. It is compatible with 3.3V / 5V Arduino, micro:bit, ESP32 type controllers. The measuring range for temperature is from -40°Cto 125°C (withaccuracy of ± 0.2℃) and for humidity from 0% to 100% RH (withaccuracy of ± 1.5% RH).The sensor has the advantage of very precise calibration, which takes place automatically. It has low power consumption and also has high interference immunity.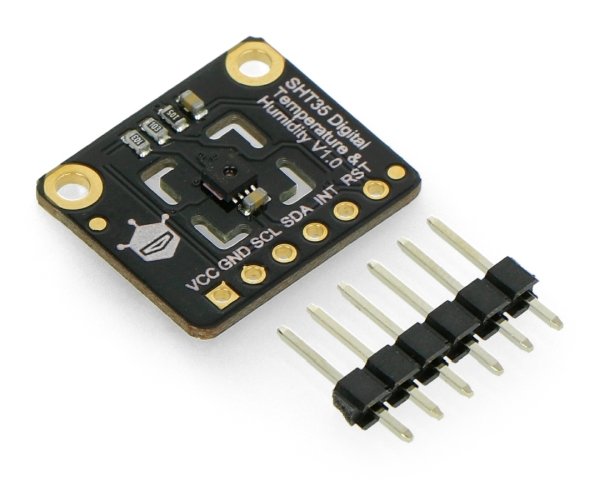 Digital temperature and humidity sensor with I2C interface.
The module has outputs in the form of soldering fields, to which you can solder goldpin connectors - raster 2.54 mm (included in the kit). They allow to connect the circuit with the main module (e.g. Arduino) orconnect to thecontact board.

Pin
Description
VCC
Pin power.
GND
The weight of the system.
SCL
Clock line of the I2C interface.
SDA
I2C interface data line.
INT

Pin alarm and interruption.

RST
Module reset activated in a low state.
Sensor specification SHT35
Operating voltage: 2.15 V to 5.5 V

Working current: <1.5 ma="" span="">

Temperature

Measuring range: -40°C to 125°C
Accuracy: ± 0.2°C
Humidity

Measuring range: 0% RH to 100% RH
Accuracy:

± 1,5%

RH within the range from 0

% RH to 80% RH (at 25℃)

Communication: I2C

Outline dimension: 19 x 16 mm / 0.75 x 0.63 inch

Mounting hole size: 2 mm / 0.08 inch

Spacing of mounting holes: 15 mm / 0.59 inch