Description
Cap fitted to connectors of Raspberry Pi GPIO in version 4B, 3B+, 3B, 2B, B+ and A+, with three relays with parameters of 250 V / 10 A. Board has a screw connector. Communication via digital signals.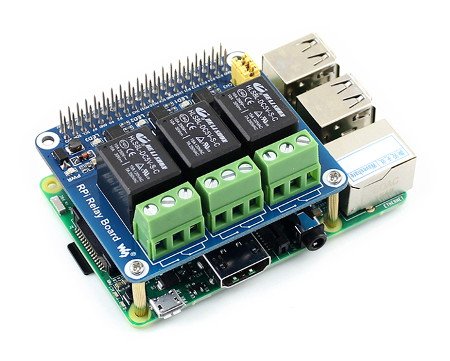 Cap has connectors suitable forthe Raspberry Pi, three relays and screw connectors. Minicomputer can be purchased separately.
Specification
Power: consumed from a Raspberry Pi
3 x relay with the following parameters:

250 V AC / 10 A
120 V AC / 15 A
30 VDC / 10 A

Connectors are compatible with the Raspberry Pi
Optical isolation separating the system and control
Status LEDs
Four holes for the mounting screws
Mounting elements included
Dimensions: 65 x 56 mm
Connection
The module communicates via the digital signals via the GPIO pins of the Raspberry Pi. Below is the schedule of used leads along with the markings of GPIO for library wringPi and in nomenclature of the BCM processor.
Relay

Pin

GPIO

Library

wiringPi

Marking of the

system BCM

Channel 1
37
P25
26
Channel 2
38
P28
20
Channel 3
40
P29
21
A detailed description and an example of configuration from minicomputer, can be found inthe user guide.
The distribution of elements on the board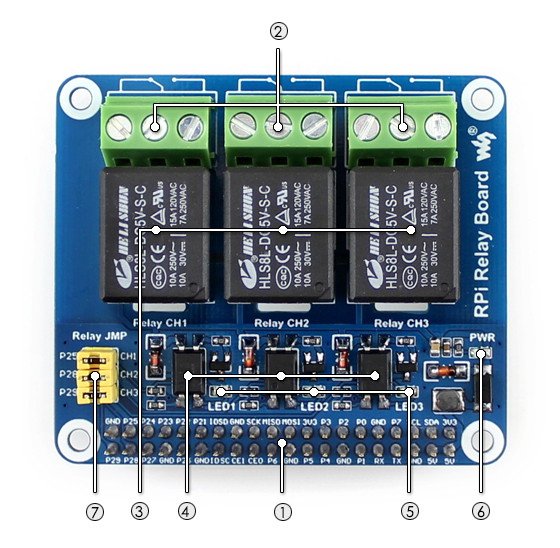 GPIO connectorto connect to the Raspberry Pi

The screw connectors to connect the managed device
Relays
Opto-isolators PC817
LEDs:
On: NC is open and NO closed
Off: NC - closed and NO open
The led indicating the power
Control j

umpers:
Closed: control of relays by default inputs and outputs from the sample code
Open:control of relays input by inputs and outputs via wires