Product description: Thermal imaging camera - FLiR Lepton Dev Kit V2
A kit containing the Flir Lepton V2 thermal imaging camera, and a board to facilitate its connection. The Lepton LWIR radiometric module has a resolution of 80 x 60 px and registers infrared radiation of wavelength range from 8 μm to 14 μm. An SPI interface is required to read the image. The I2C bus is used to configure the camera, although it is not absolutely required. The device is powered from 3 V to 5.5 V.
FLiR Lepton Dev Kit camera presentation.
Specifications FliR Lepton V2
Wavelength range: 8 μm to 14 μm
Measurement angle:

For diagonal mode:

60°

For HFOV mode:

50°

Thermal sensitivity: up to

50 mK

Resolution: 80 px (h) x 60 px (v)

Single pixel size: 17 μm

Frame rate: 9 Hz

Frame rate: 9 Hz Image timeout: less than 1.2 seconds

Average power consumption: approximately 150 mW

Available interfaces:
Supply voltage: from 3.0 V to 5.5 V
Warning!
The module is sensitive to electrostatic discharge. Ensure proper grounding before installation.
Lepton V2 pinout and description
The FLiR Lepton Dev Kit V2 thermal imaging camera, has 20 pins to connect the wires. Their diagram and description is illustrated by the following graphics.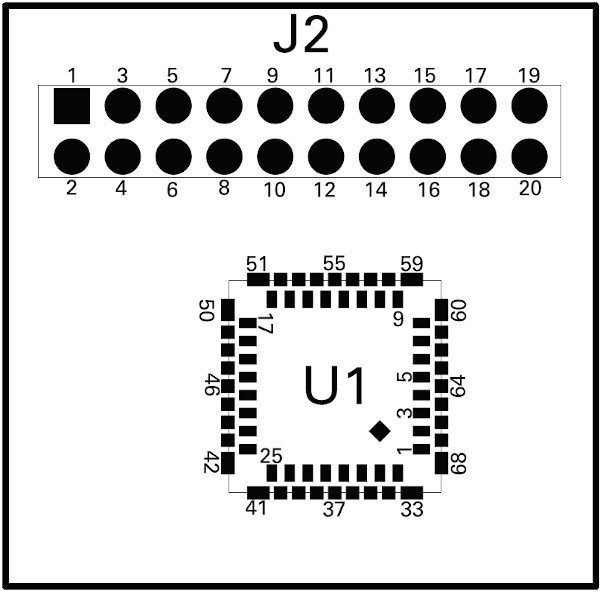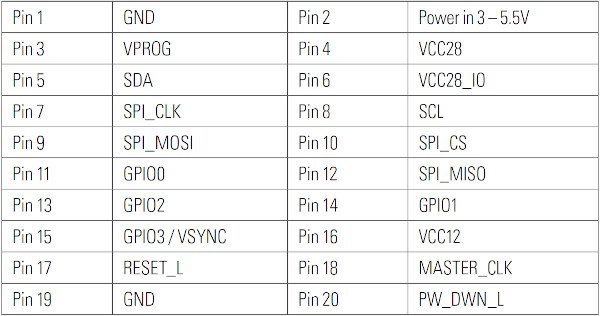 Schematic and pinout of the module.
Comparison of the FLiR Lepton and FliR Lepton V2 Models
Comparative specification
Model:
EFLiR Lepton Dev Kit
EFLiR Lepton Dev Kit V2
Resolution:
80 x 60 px
80 x 60 px
Wavelength range:

8 μm to 14 μm

8 μm to 14 μm

Measuring angle for HFOV mode:

51°C

50°C

Thermal sensitivity
up to 50 mK
up to 50 mK
Frame rate
less than 9 Hz

less than 9 Hz

Control interface:
I2C
I2C
Video interface:
SPI

SPI

Image waiting time:

less than 0.5 s

less than 1.2 s

Integrated shutter:
no
yes
Metering angle for HFOV mode:

51°C

50°C

Average power consumption
approx. 150 mW
approx. 150 mW
Supply voltage:
3.0 V to 5.0 V
3.0 V to 5.5 V
Contents of the kit
FLiR Lepton V2 camera module
Printed circuit board with leads