‌
Product description: Luxonis Oak-D-Lite - AI image recognition kit
The module developed by Luxonis enables the use of Myriad X vision processor (VPU) technology. It can work with popular platforms, incl. Raspberry Pi. The device is equipped with two stereo cameras 640 x 480 px and a single 13 Mpx camera that allows you to capture color images with a resolution of 4208 x 3120 px. The device uses the USB-C interface (versions 2.0 / 3.0). The presented Lite variant offers lower weight and dimensions compared to the standard Oak-D version .
The product has a central camera in the Fixed Focus version (with fixed focus), recommended for applications with strong vibrations: e.g. projects using drones. Enables you to clearly see objects at a distance of more than 50 cm .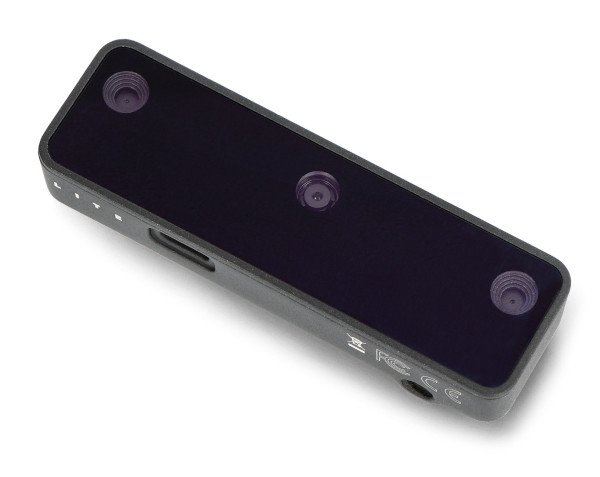 Luxonis Oak-D-Lite - AI image recognition kit.
Myriad X VPU processor
4 TOPS of processing power (1.4 TOPS for AI)
Running any artificial intelligence model, even with non-standard architecture / construction (models must be converted )
Coding: H.264, H.265, MJPEG - 4K / 30 FPS, 1080P / 60 FPS
Computer Vision : Warping / Distorting, Resizing, Cropping with ImageManip, Edge Detection, Feature Tracking
Stereo depth perception with filtering
Tracking 2D and 3D objects
Comparison of OAK-D-Lite and OAK-D versions
The Lite version is smaller and lighter than the standard OAK-D. Lite mono cameras have a lower resolution: 640 x 480 px instead of 1280 x 800 px
In OAK-D-Lite, the manufacturer did not use the IMU (Inertial Measurement Unit) sensor
The OAK-D-Lite does not have a separate power socket. Powered by USB-C which provides 900mA @ 5V and can handle most projects
The Myriad X VPU processor in the Lite version was placed directly on the PCB (instead of connecting the SoM to the base board - the solution used in OAK-D)
In collaboration with ArduCam, the manufacturer has developed custom camera sensor connectors that are shorter and take up less space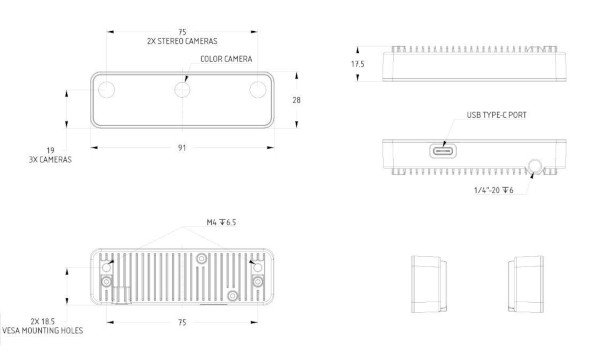 Detailed dimensions of the Oak-D-Lite module .
Technical specification of Luxonis Oak-D
Power consumption:

standby: 0.6W
Maximum consumption: 4.5 W

RGB camera:

sensor: IMX214
resolution: 13 Mpx (4208 x 3120 px)
maximum frame rate: 60 fps
sharpness: from 50 cm to infinity
Viewing angle DFOV / HFOV / VFOV: 81 ° / 69 ° / 54 °
F-number (focal length): 2.2 +/- 5%
Lens Size: 1 / 3.1 ''
Effective focal length: 3.37 mm
Distortion: 1%
Pixel size: 1.12 µm x 1.12 µm

Stereo camera

sensor: OV7251
resolution: 480 px (640 x 480 px)
maximum frame rate: 200 fps
sharpness: from 6.5 cm to infinity
Viewing angle DFOV / HFOV / VFOV: 86 ° / 73 ° / 58 °
F-number (focal length): 2.2
Lens Size: 1/75 ''
Effective focal length: 1.3 mm
Distortion: 1.5%
Pixel size: 3 µm x 3 µm

Dimensions: 91 x 28 x 17.5 mm
Weight: 61 g
Specification and comparison Luxonis Oak-D, Oak-D-Lite, Oak-D-Pro, Oak-D-S2, Oak-D Pro W
Model
Luxonis Oak-D
Luxonis Oak-D-Lite
Luxonis Oak-Pro
Luxonis Oak-D-S2
Luxonis Oak-D Pro W
RGB camera
IMX378
IMX214
IMX378
IMX378
IMX378
Type (Camera RGB)
Autofocus
Fixedfocus
Fixedfocus
Fixedfocus
Fixedfocus
Camera resolution (RGB)
12 MPx (4056 x 3040 px)
13 Mpx (4208 x 3120 px)
12 Mpx (4032 x 3040 px)
12 Mpx (4032 x 3040 px)
12 Mpx (4032 x 3040 px)
Camera angle of view (RGB)
DFOV / HFOV : 81° / 68,8°
DFOV / HFOV / VFOV: 81° / 69° / 54°
FOV / DFOV / HFOV / VFOV: 78° / 81° / 69° / 55°
FOV / DFOV / HFOV / VFOV: 78° / 81° / 69° / 55°
DFOV /HFOV / VFOV): 120° / 95° / 70°
Camera focus (RGB)
from 8 cm to infinity
from 50 cm to infinity
from 50 cm to infinity
from 50 cm to infinity
from 60 cm to infinity
Lens (RGB)
1/2,3''
1/3,1''
1/2,3''
1/2,3''
1/2,3''
F-number (RGB)
1.8 ±5%
2.2 ±5%
1.8 ±5%
1.8 ±5%
2.8 ±5%
Maximum number of frames per second (RGB)
60 fps
60 fps
60 fps
60 fps
60 fps
Effective focal length (RGB)
4.81mm
3.37mm
4.81mm
4.81mm
2.75mm
Distortion (RGB)
< 1% 
1%
< 1.5% 
< 1.5% 
< - 14.6%
Pixel size (RGB)
1.55µm x 1.55µm
1,12µm x 1,12µm
1.55µm x 1.55µm
1.55µm x 1.55µm
1.55µm x 1.55µm
Stereo camera
OV9282
OV7251
OV9282
OV9282
OV9282
Camera resolution (stereo)
1MP (1280x800)
480 px (640 x 480 px)
1MP (1280x800)
1 Mpx (1280 x 800 px)
1 Mpx (1280 x 800 px)
Camera angle of view (stereo)
DFOV / HFOV / VFOV - 82° / 72° / 50°
DFOV / HFOV / VFOV - 86° / 73° / 58°
DFOV / HFOV / VFOV - 82° / 72° / 50°
FOV / DFOV / HFOV / VFOV - 89,5° / 89,5° / 80° / 55°
DFOV / HFOV / VFOV - 150° / 128° / 80°
Camera focus (stereo)
from 19,6 cm to infinity
from 6,5 cm to infinity
from 19,6 cm to infinity
from 19,6 cm to infinity
from 18 cm to infinity
Lens (stereo)
1/2,3''
1/75''
1/4''
1/4''
1/4''
F-number (stereo)
2,2
2,2
2,0 ± 5%
2,0 ± 5%
2,0 ± 5 %
Maximum number of frames per second (stereo)
120 fps
200 fps
120 fps
120 fps
120 fps
Effective focal length (stereo)
2,35 mm
1,3 mm
2, 35 mm
2,35 mm
1,69 mm
Distortion (stereo)
< 1%
< 1.5%
< 1%
< 1%
< 38%
Pixel size (stereo)
3µm x 3µm
3µm x 3µm
3µm x 3µm
3µm x 3µm
3µm x 3µm
Spot projector
doesn't have
doesn't have
has
doesn't have
has
Coding
H.265 - 30 fps
H.264, H.265, MJPEG - 4K / 30 FPS, 1080 P / 60 FPS
H.264, H.265, MJPEG - 4K / 30 fps, 1080p / 60 fps
H.264, H.265, MJPEG - 4K / 30 fps, 1080p / 60 fps
H.264, H.265, MJPEG - 4K / 30 fps, 1080p / 60 fps
Dimensions
110 x 54,5 x 33 mm
91 x 28 x 17,5 mm
97 x 29,5 x 22,9 mm
97 x 29,5 x 22,9 mm
97 x 29,5 x 22,9 mm
Weight
115 g
61 g
91 g
91 g
91 g
Radiator
built-in
built-in
built-in
built-in
built-in