Description
The module has eight HF3FF 012-1ZST relay with a coil supplied with voltage of 12 V. The system is controlled via Web interface or TELNET. In addition, the module has 10 GPIO pins working as analog inputs or digital inputs / outputs. Works with a voltage 12 V or 24 V.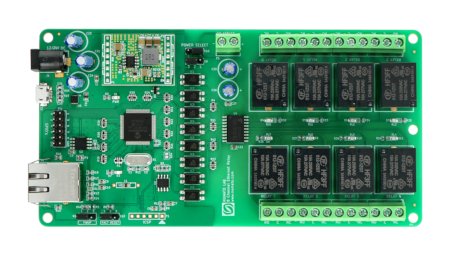 Service module
All pins can be individually programmed as inputs or outputs. Easy to use web interface allows you to control relays and GPIOs. The website displays the current status of each relay. Each relay can be individually managed with a simple click of a button. The module can be controlled via any applicationwith a serial console, for example,RealTerm.The device supports user-friendly commands, for example "relay 1" turns on the relay 1. The full list is given inthe user guide.
Specification
8 relays

Maximum contacts voltage: 250 VAC DC / 10 A
Screw terminal block connector
Management: Web / Telnet interface

The number of GPIOs: 10 (goldpins 2.54 mm)
The number of analog pins: 10 (can be used as digital)
Supply voltage: 12 V or 24 V (DC Jack / screw terminal block connector- selected with a jumper)
Working voltage of pins: 3.3 V
Resolution of the A/C transmitter: 10-bit
Connectors: microUSB / Ethentet -wirecan be purchased separately
The module dimensions: 165 x 84 mm
The 

manufacturer has prepared a detailed 

guide

 together with the module's manual.