Description
Wired proximity sensor activated magnetically. The device is used to determine the position of doors and windows. The principle of operation is similar as in a traditional relay. The circuit is open by default, when approaching the magnet, circuit is being closed, which means that through the wires, the current begins to flow.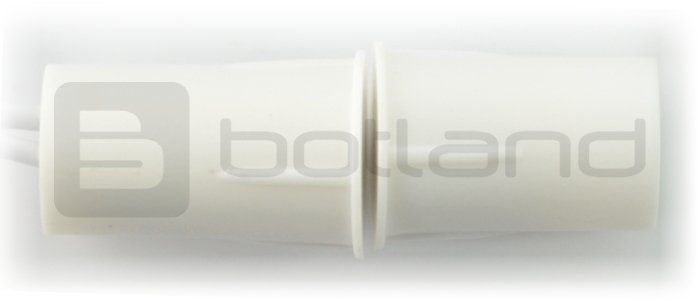 Connection
The sensor can be easily connected to any cip with a microcontroller, e.g. an Arduino. By attaching a pulling up resistor or by running an internal pull-up, the read can be implemented in digital form
Communication with Arduino
To verify that the functionality of the sensor, use the attached to the Arduino program - DigitalInputPullup, which is in the menu: File -> Examples -> Digital. It is sufficient to connect one sensor's wire to ground GND, the other to the pin No. 2 of Arduino, and when bringing together both parts of the sensor, the built-in L led connected to pin 13, will light up.
Specification
Reed switch diameter: 11 mm
Length of reed switch: 16 mm
Diameter of magnet: 11mm
The length of the magnet: 15 mm
Cable length: approx. 35 cm