Description
Digital distance sensor which serves to detect obstacles. The transmitter generates the modulated wave with a frequency of 180 kHz, the receiver captures the reflected light. The module operates with voltage from 2.5 V to 5 V. It has a digital output, making it compatible with most commissioning modules, includingRaspberry PiandArduino. The maximum range of the sensor is 150 cm.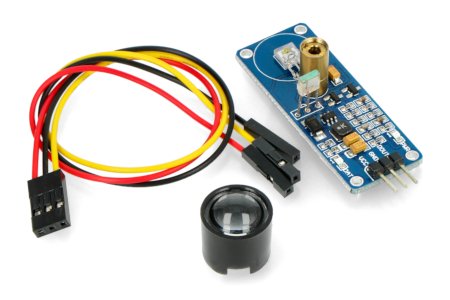 Module contains the connecting wires with the female tips

Connection
The device has three pins with soldered goldpin connectors - pitch of 2.54 mm.

| Pin | Description |
| --- | --- |
| VCC | Supply voltage: from 2.5 V to 5 V. |
| GND | The ground of the system. |
| DOUT | The digital output signal. The high status indicates the detection of an object within a given range. |
Specification
Supply voltage: from 2.5 V to 5 V
1 x digital output DOUT
Measurement distance:

effective: 0.8 m
maximum: 150 cm

The wavelength of the emitted light: 650 nm
The wavelength of the received light: from 650 to 950 nm
Based on the system PT1301
Two status LEDs that signal the power supply and the detection of precipitate
Dimensions: 53 x 18 mm
Attention!

When operating the sensor, you must be very careful not to direct the laser beam towards eyes.