Description
Mini twilight switch is used with LED strips. Works with voltage from 12V to 24V and electric current up to 4A. It turns the light on at dusk and off when it gets bright. No configuration is required.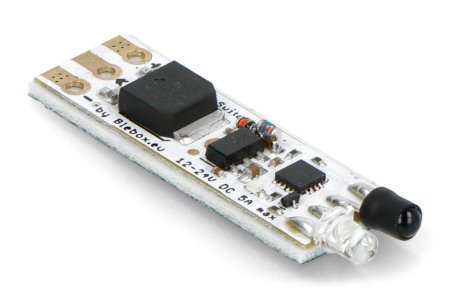 The technology applied makes the lights go on also with the door half-opne. The compact size, 36 x 11mm, allows you to place it in most of LED profiles.
Connecting diagram
Before connecting, switch off the voltage in the powered circuit. A driver must be installed in a place protected from the weather conditions and from access by third parties.

Connecting diagram
The module has inputs, to which you can connect wires
"+"- power
"OUT"- control signal
"-"- mass
Setting
The default setting is a mono switch - it is stable and turns off the LED tape when an object is detencted. In addition, the module has 2 operation modes: mono - stable and turns off the LED tape when an object is detencted and bi - stable, allowing to manually turn on/off the light by using e.g. a hand.
To change the device's operation mode of operation you must tap the sensor head 5 to 7 times with your fingertip. That action will put the module in setup mode which can be noted by the darkening of the LED strip. With each tap the sensor switches the operation modes from 1 to 3. It is indicated by a flashing light, where depending on the mode the tape will flash a certain number of times.
Specification
•Supply voltage: 12 to 24V
•Maximum current: 4A
•Maximum power: 96
•Energy consumption: up to 0.1
•Sensor optical diffusion
•3 modes of operation: NO, NC, bistable
•Working temperature: from -10 °C to 40 °C
•Connection method: solder pad for wiring
•Installation: in an LED profile / heatshrink
•The module has a double-sided tape
•Dimensions: 36 x 11 mm