Product description: Unicorn HAT Mini - RGB LED matrix - Raspberry Pi frontend - Pimoroni PIM498
Overlay forRaspberry Pimade by Pimoroni company. On the board there are119RGB LEDs in form of17 x 7matrix.Thanks toHT16D35Achip it is possible to control the color and brightness ofeach LED separatelywhich allows to create amazing lighting effects. The LEDs do not have their own driver like e.g. NeoPixel LEDs, the control is done with HT16D35A driver. On the board, there are alsofourtact-switchbuttonsfor individual use by the user. In the library prepared by the manufacturer one can find sample projects such as displaying text, graphics and various types of games with the use of tact-switch buttons. The overlay is made in mini HAT format, which means its dimensions are the same as theRaspberry Pi Zeromodule. The overlay is compatible with all 40-pin versions of the Raspberry Pi minicomputer.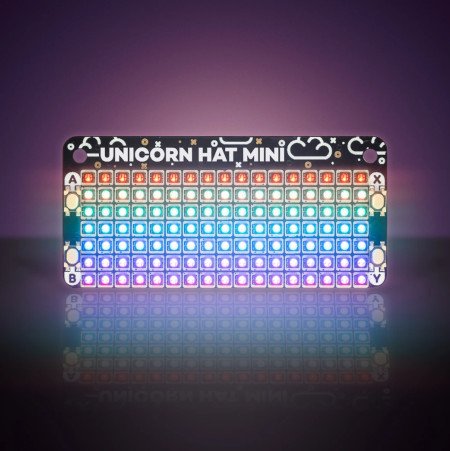 RGB LED matrix overlay for Raspberry Pi.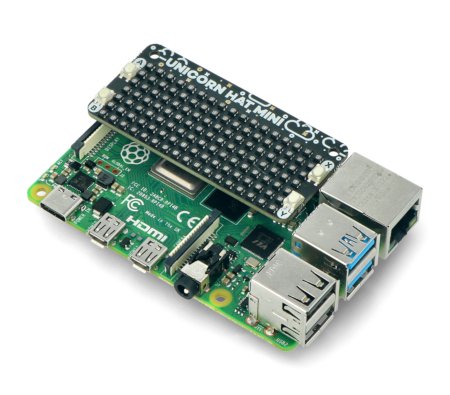 Overlay for Raspberry Pi. The item on sale is the Unicorm HAT Mini module itself, the minicomputer can be purchased separately.
Main features of Unicorn overlay
17 x 7 RGB LED matrix (119 diodes in total)
Individual brightness and color control of each LED
2 x Holtek HT16D35A LED driver chip
Four built-in tact-swtich buttons
Fully assembled, no soldering required
Compatible with any 40-pin version of Raspberry Pi
Dimensions: 65 x 30 x 10 mm
Software
Manufacturer Pimoroni has prepareda Python libraryfor the Unicorn HAT Mini overlay, which makes it much easier to control the LEDs, their color and brightness. It allows you to display images, text, create games and more. You can find many examples using buttons in games.