Product description: Azure Film AZPEN1-M - 3D pen - blue
3Dpen with a blue casing, allows you to create 3D drawings in the air using the appropriate material in the form of 1.75 mm diameter filament . The device can be used by children, teenagers, architects and anyone who wants to create models from 3D printing, at a low cost. The 3D pen uses the same technology as a 3D printer (FDM - Fused Deposition Modeling), but allows you to print during the writing process. Use PLA filament to create models. The nozzle, which has a diameter of 0.4 mm to 0.7 mm, heats up to a temperature of 160°C to 230°C. The temperature and speed can be easily adjusted with the buttons. The 3D pen for kids is powered by 12 volts and draws up to 3 amps of current. The kit includes a 12 V / 3 A power supply, a pen stand and samples of the felt.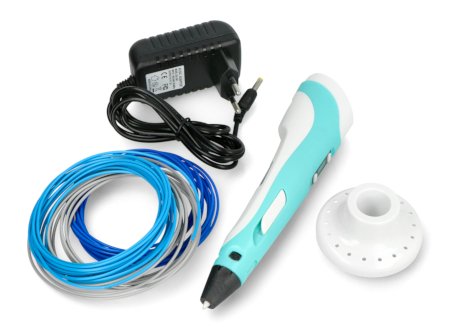 Contents of the Azure Film children's and adult 3D pen set.
Specification of 3D pen for children and adults Azure Film
Modeling type: FDM - Fused Deposition Modeling
Modeling Method: 3D
Working space: infinite
Material: PLA filament
Material diameter: 1.75 mm
Printing speed: adjustable
Nozzle temperature: from 160°C to 230°C
Supply voltage: 12 V / 3 A
Housing color: blue
Nozzle diameter: from 0.4 mm to 0.7 mm
Set contents
Azure Film 3D Pen AZPEN1-M - blue
3D pen stand
Power supply 12 V / 3 A
Samples of PLA 1,75 mm felt - random color