Description: Servo - micro - 180 degrees - crocodiles - Kitronik 25105.
Kitronik servo based on the FeetechFS90MG-CL withmetal gearbox. Powered from 4.8V to 6V, torque is from 1.8 kg*cm to 2.2 kg*cm, movement range up to 180°. The cables are terminated withcrocodile connectors.If a servo will be used in projects with amicro:bitboard, a separate power source or KitronikKlip Motor Drivershould be used to power it.
The servo can be programmed using MakeCodeor Python,whichare ideal for newcomers and micro:bit professionals. A set of four taps is also included.
Servo leads
The servo has a 3-pin cable with crocodile connectors. It is powered from 4.8 V to 6 V.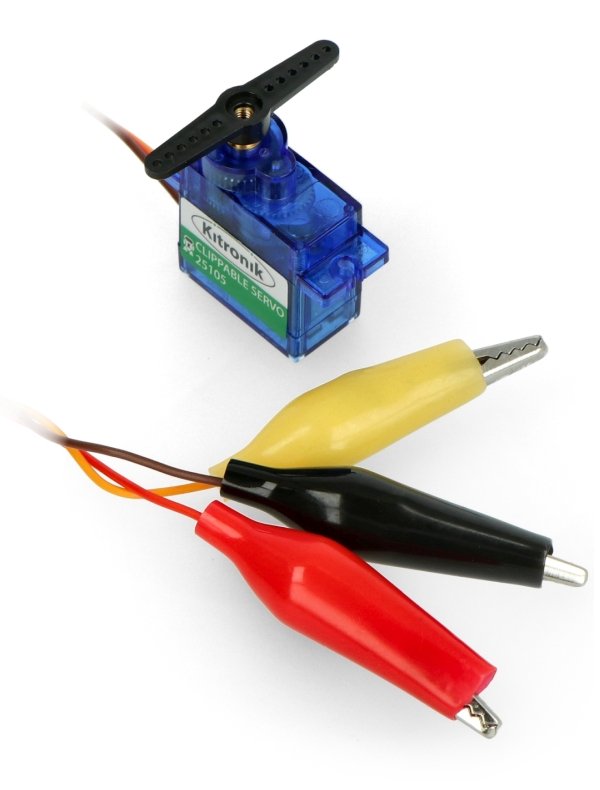 Colored crocodile connectors.
| Cable color | Connector colour | Description |
| --- | --- | --- |
| Brown | Black | Weight - GND |
| Red | Red | Power supply |
| Orange | Yellow | Signal |
Main features of Kitronik cheese
The servo has standard 3-pin connectors in the form of crocodile connectors.
Small dimensions with high torque: 1.8 kg*cm at 4.8 V and 2.2 kg*cm at 6 V.
Metal gearbox.
Programmable in MakeCode and Python.
Can be used in RC models and robotics.
180° movement range.
Supply voltage: 4.8 V to 6 V.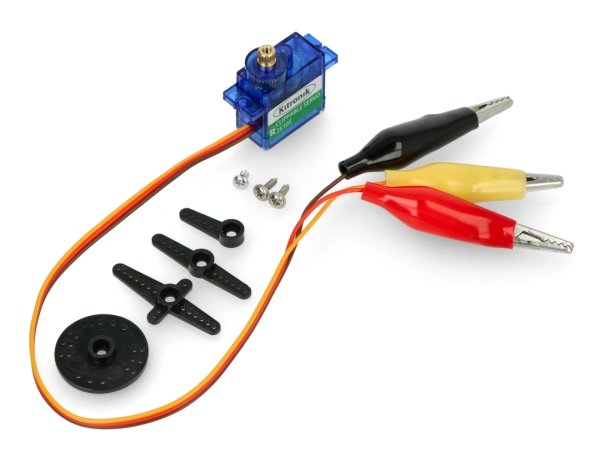 Set contents.
Kitronik servo specifications
Supply voltage: 4.8 V to 6 V
Operating parameters for 4.8 V:

current consumption at rest (idle): 5 mA
no-load current consumption: 190 mA
current consumption when the shaft is stopped: 700 mA
speed: 10 s/60°
moment: 1.8 kg*cm

Operating parameters for 6 V:

current consumption Idle: 6 mA
no-load current consumption: 220 mA
current consumption at stopped shaft: 800 mA
speed: 9 s/60°
moment: 2.2 kg*cm

Metal cogs
Enclosure: ABS
Scope: 180°
Dimensions: 32.3 x 30.7 x 12.1 mm
Cable length: 250 mm
Length of crocodile connector: 34 mm
Weight: 12,5 g