Description
Conductive rubber wire used for measuring stretching strength. Made of chemically treated carbon rubber. It allows you to measure the stretching force.
Measurement
At rest, its resistance is from 140 to 160 Ω/cm. While stretching, the resistance is growing. For example, with a length of 15 cm, the resistance is about. 2,1 kΩ and after stringing up to 25 cm - 3.5 k &Omega. After release of the stringing, the rubber is compressed, but it takes a few minutes to get it back to the length of the rest. This is also not accurate linear sensor, measurements may differ between the two rubbers. The product enables the measurement of stretching strength but it is not a very accurate measurement.
Rubber should not be stretched more than approx. 50% to 70 % of its original length.
Included
Rubber cable: 1 m
Two crocodile clips
Resistor 10 kΩ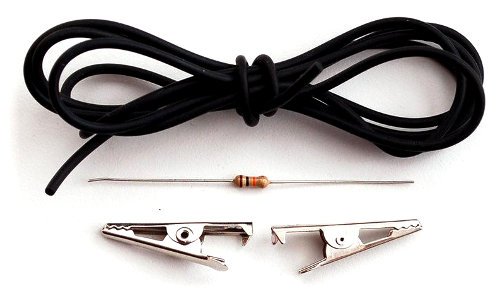 These elements work together as a simple voltage divider. The manufacturer provides user guideonhow to measure the analog voltage and convert it to resistance.