Description
Easy to use temperature and humidity sensor with the supply voltage from 3 V to 5 V. It communicates through an I2C interface. The accuracy is 0.4 °C for temperatures ranging from -10 °C to 85 °C and 3% for the humidity in the range from 0 % to 80 % RH. The sensor is used, i.a. in meteorological stations and systems of control of the conditions in the premises.
Connection
The module communicates via the I2C bus. It has 5 pins.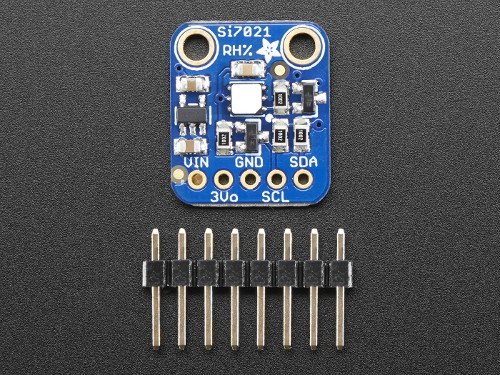 | Pin | Description |
| --- | --- |
| VIN | Pin of the power supply from 3 V to 5 V. |
| GND | The ground of the system. |
| SCL | Clock line of the I2C interface. |
| SDA | Data line of I2C interface. |
| 3,3 | Regulated output of 3.3 V, with a capacity of 100 mA. |
Pins are the solder fields for soldering the goldpin connectors- pitch of 2.54 mm. Thanks to them, it is possible to connect the system with thebreadboardor the main module usingwires. The set includes the goldpin connectors for self-soldering.
Specification
Supply voltage: 3 to 5 V
Fast response time
Two mounting holes with a diameter of 3 mm
Temperature

Measuring range: -10 to 85 °C
Accuracy: ± 0,4 °C

Humidity:
Interface: I2C
Dimensions: 17,8 x 15,3 x 3 mm
Weight: 1.0 g
*RH - relative humidity is expressed in percents. It is the ratio of actual humidity in the air to its maximum number that air can keep at a given temperature.