Product description: Flammable gas sensor - XG30
XG30 semiconductor sensorallows detection of flammable gases such as methane, propane, butane, LPG and natural gas.Average lifetime of the device is about 3 years. In order to ensure the product's efficiency, it should be tested at least once a week.The device is powered by the mains voltageusing the built-in cable. The sensor allows monitoring the concentration of flammable gases in rooms where there is a risk of their leakage.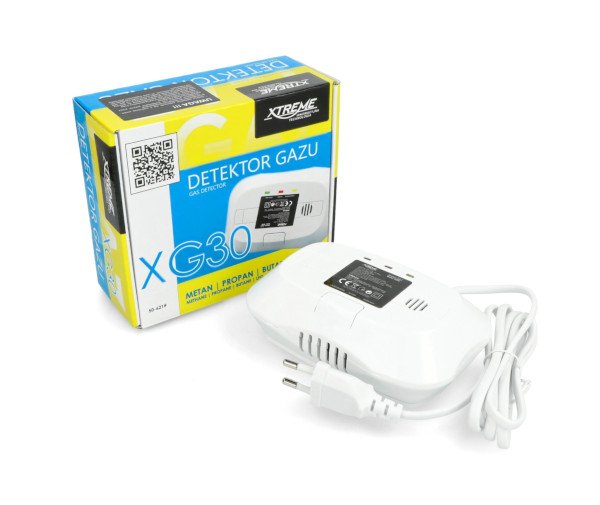 Flammable gas sensor features - XG30
High quality semiconductor sensor.
Alarm in the form of an audible and optical signal.
Built-in function to test proper operation of the device and reset it in case of an alarm.
LEDs indicating operation and alarm status:

Green LED: Lights when the unit is operating normally - flashes at start-up.
Yellow LED: Indicates sensor damage.
Red LED: flashes when an alarm is activated.

The sensor has an energy-saving function.
Alarm sensors in Botland!
Check out our wide range ofalarmsensors to improve the security level in your home!
Specification of flammable gas sensor - XG30
Power supply voltage: 230 V AC
Energy consumption

Standby time: < 1 W
Alarm activated: < 2 W

Time to prepare for work: 180 seconds
Sensitivity: < 10% LEL
Alarm volume: > 70 dB
Operating temperature: -10°C to 45°C
Ambient humidity: 20% to 90% RH
The kit includes:
Sensor XG30
Mounting elements
Manual
Declaration of conformity