Product description: Circuitmess Nibble Type F educational kit - for self-assembly
The DIY kit is designed for self-assembly of theNibble type Fconsole from Circuitmess. Thanks tothe user's manualyou will learn how to assemble the game console yourself, using only a few tools. All you need to do is to do everything step by step. Whether you're meeting a DIY device for the first time or an experienced DIY enthusiast, you'll learn a lot and enjoy the experience of assembly and programming. If you have never soldered a DIY project before, you can make up for it by going throughthe soldering courses available on the manufacturer's website. This product is for childrenover 9years old. Please remember to take precautions during installation.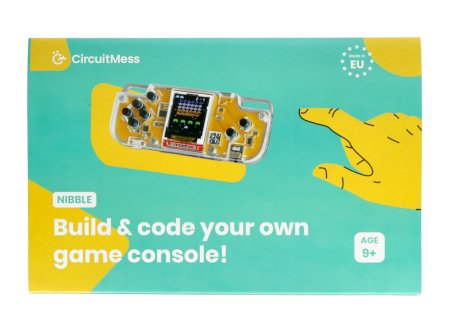 Circuitmess Nibble Type F education kit.
What will you learn from Nibble?
The main purpose of Nibble isto educate,motivate you to learn something new and improve the skills you already have.During the assembly you will learn:
soldering
basic electronic components and their functions
ways of connecting electronic components
what are microcontrollers
basic information about digital electronics
What does the motherboard contain?
ANibblemotherboard contains several parts already soldered in:
ESP8266 -the most important part of the device is the microcontroller, which handles everything. It is the brain of the console. ESP8266 is one of the most popular chips, due to its power and low price. It supports Wi-Fi and is really fast when receiving and sending data.
Microchips -Two additional small chips that are on the board have a specific function, such as controlling power consumption or expanding GPIO sockets.
Reset button -allows you to reset your console at any time, making it easy to refresh after a jam.
USB port -allows you to connect to your computer. This is used to connect the microUSB cable to your computer and transfer new files and games to your console. This port is not used to charge your console.
Capacitors and resistors -small components are the main parts of almost every electronic device, used to control the flow of current. Wherever you see a number followed by a "k", it is a resistor and its resistance is measured inohms (or kiloom). If the number is followed by "F", it is a capacitor and its electrical capacity is measured infarads (or nanopharads).There are several places on the motherboard where these components are located.
Buzzer -whenever a sound is heard in the game, it comes from the Buzzer. It is only able to produce quiet and short sounds and is not as efficient as a real speaker, but it is still a useful tool when you only need this little audio output.
The fuse -usually used as a safety system in circuits and protects other components from damage if something goes wrong.
CircuitBlockswhat?
It's agraphical programming interfacethat helps beginners to start embedded programming. Based on Microsoft MakeCode and PXT-Blockly, it provides the user with a neat Scratch-like interface where logical blocks are combined to generate code for his Nibble.
The set includes
L.p.
Photo
Description
Number
1.

LCD screen module- 128 x 128 px display with 18-bit color depth and 1.44" screen diagonal.

1
2.

Assembly components in the bag:

3 x distance M3x14 mm
8 x small black button
3 x distance M3x4 mm
5 x metal screw M3x6 mm
3 x metal screw M3x8 mm
3 x metal screw M3x16 mm
8 x small black button cap
3 x fuse
1 x switch button

1
3.

Nibble mainboard- glass fibre board with traces of copper, together with protective paint and insulation material. The layers of copper on the board create paths that connect the different components of the Nibble set, so they can work as an electronic device.

1
4.

Acrylic casings- casings made of acrylic material cut out by laser CNC. They are used not only to keep everything in place but also to protect other elements from cracking. These are three front casings, two rear casings and a battery case.


All casings have a protective layer which must be removed before assembly!

6
5.

Soldering iron- Nibble mounting tool.

1
6.

Soldering iron cable- used to connect the soldering iron to the USB power supply. After connecting the cable the soldering iron will heat up if you hold it in your hand.

1
7.

Soldering iron holder- used to store the soldering iron in a safe place while it is still hot.

1
8.
Soldering sponge- a small piece of sponge which is used to remove excess solder from the tip of the solder.
1
9.

AAA batteries- batteries commonly used in many devices. Remember that connecting the device to a computer using the microUSB cable will not charge the batteries. 3 pieces are included.

These batteries are not rechargeable!

3
10.

Battery basket- 3 AAA batteries container, solder it to the motherboard.

1
11.

MicroUSB cable- used to connect Nibble to the computer. This way you can download the latest software and upload new games to your console.

1
12.

Phillips screwdriver- 2 mm screwdriver, needed to assemble all the elements together.

1
13.

Soldering wireis a metal wire that you will melt with a 10043soldering iron to connect two elements together. This type of solder is commonly used in the DIY electronics community for similar soldering projects.

1
14.

USB power supply- designed to power the soldering iron. Remember to use only this power supply, because using other power supplies may damage the device or cause it to not work properly.

1
Nibbles can also be useful for installation: