Product description: TFT LCD display 1,44'' 128x128x - SPI - 65K RGB - for Raspberry Pi Pico - Waveshare 19576
TFTdisplaydesigned to work withRaspberry Pi Picoboard, its diagonal is1.44"and resolution is128 x 128 px. The module is based on ST7735S chip and communicates viaSPIinterface. It is capable of displaying 65 thousand colors included in the RGB gamut. The size of a single pixel is 0.20 x 0.20 mm. The module is equipped with 4 buttons for any purpose.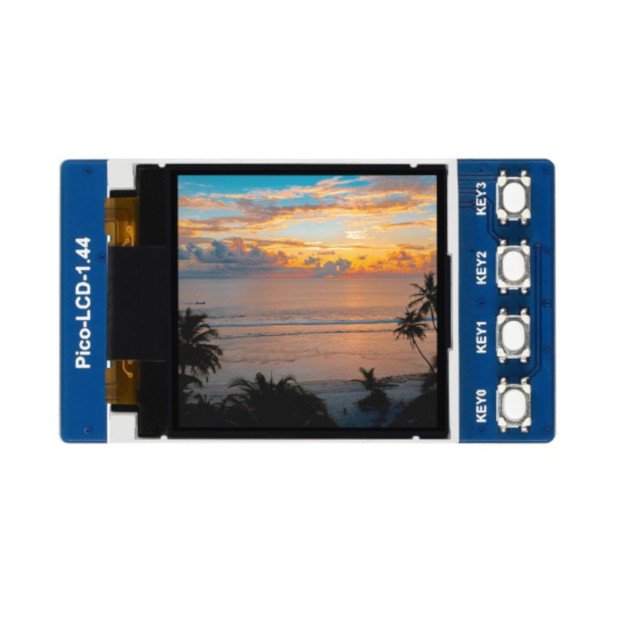 TFT 1.44" 128 x 128 px display designed to work with Raspberry Pi Pico.
Product compatible with RaspberryPi Pico
The manufacturer provides aWiki page for the product, which contains information about the module's pinouts and a detailed user guide. You will also learn from it how to connect the display.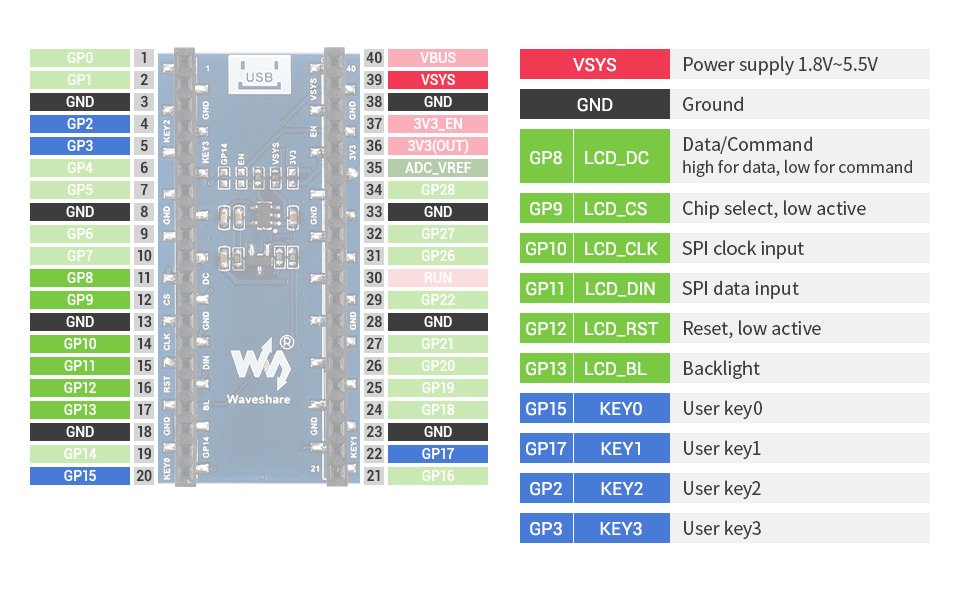 Display module pinouts for Raspberry Pi Pico.
Display module pinouts for Pico
The manufacturer has placed a socket on the module where you can directly plug in the Raspberry Pi Pico board or make a connection using wires. Among the pins there are:
VSYS - supply voltage from 1.8 V to 5.5 V
GND - ground
GP8|LCD_DC - LCD data / command line, high for data, low for commands
GP9|LCD_CS - chip selection line, activated by low state
GP10|LCD_CLK - SPI clock line
GP11|LCD_DIN - SPI data line
GP12|LCD_RST - LCD reset, activated by a low state
GP13|LCD_BL - LCD backlight
GP15|KEY0 - user key 0
GP17|KEY1 - user key 1
GP2|KEY2 - user key 2
GP3|KEY3 - user button 3
Display specification
Operating voltage: from 3.15 V to 5 V
Interface: SPI 4-wire
Display type: TFT
Chip: ST7735S
Diagonal: 1,44"
Resolution: 128 x 128 px
Number of displayed colors: 65k RGB
Display size: 25.50 x 26.50 mm
Pixel size: 0.20 x 0.20 mm
Module size: 52 x 30 mm
Set contents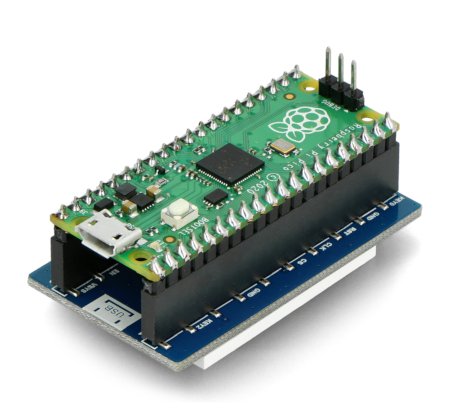 The item for sale is the display, the Raspberry Pi Pico module can be purchased separately.