Product description: Temperature and humidity sensor - Sensirion SHT40 - STEMMA AT/Qwiic - Adafruit 4885
Temperatureandhumiditysensorfrom Adafruit. Equipped withSensirionSHT40chip andSTEMMA QT / Qwiicconnectors, which facilitate the connection of the sensor with the controller module. It enables temperature measurement in the range from -40°C to 125°C (with an accuracy of 0.2°C) and humidity measurement in the range from 0% RH to 100%RH(with an accuracy of 1.8% RH). Poweredfrom3V to 5V.
Product compatible with Arduino and Raspberry Pi.
A detaileduser guideis available on the manufacturer's website, which includes wiring diagrams for each controller. It makes it significantly easier to get started with the sensor.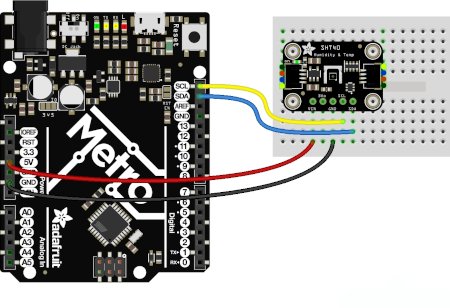 Connection diagram of module withMetroboard - Arduino derivative. PCB is not included in set, you can buy it separately in our shop.
Leads description
Sensor has leads in form ofsoldering fields, to whichgoldpinconnectors should be attached (included in set). Alternatively, the temperature and humidity sensor is also equipped withSTEMMA QT / Qwiicconnectors, using which it is possible to comfortably connect the module with the controller board - without additional soldering.
VIN- 5 V power pin
3 V- 3 V power supply pin
GND- system ground
SCL- logic pin, I2C interface clock line
SDA- logic pin, data line of I2C interface
STEMMA QT/Qwiic- connection connector
Technical specifications
Circuit: SHT40
Module type: temperature and humidity sensor
Supply voltage: from 3 V to 5 V
Temperature measurement

measuring range: from -40°C to 125°C
accuracy: up to 0.2°C

Humidity measurement

measuring range: from 0% RH to 100%RH
accuracy: up to 1,8% RH

Interface: I2C
Bus address: 0x44
Pinouts:

solder fields
STEMMA QT / Qwiic connectors
Set contents
SHT40 temperature and humidity sensor module
Connectors goldpin - 2,54 mm pitch