Product description: BME280 - I2C/SPI humidity, temperature and pressure sensor - SparkFun SEN-15440
Atmosphericsensor manufactured by SparkFun based on Bosch Sensortec BME280 integrated environmental sensor. This module is an easy way to measure atmospheric pressure, humidity and also temperature readings. The BME280 sensor used here allows atmospheric pressure measurements from 30 kPa to 110 kPa, as well as relative humidity and temperature measurements. The sensor uses a convenient Qwiic connection system, so there is no need for soldering to connect it to the rest of the system. In addition, the manufacturer has designed the module so that contact boards can also be used. The module communicates via a 3.3 V SPI interface, a 5 V tolerant I2C interface (with boost resistors to 3.3 V), and can be configured to perform measurements at less than 1 mA current consumption.
The SparkFun Qwiic Connect System is an ecosystem of I2C drives, shields, and wires that make prototyping faster and less error-prone. All Qwiic-enabled boards use a common 4-pin JST connector with 1 mm spacing. This reduces the amount of PCB space required, and the polarized connections mean they are always connected correctly.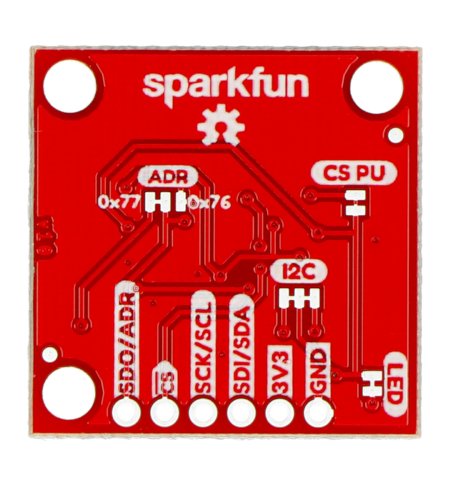 Backside of the board shows description of the leads.
Technical specification BME280 - I2C/SPI humidity, temperature and pressure sensor
Bosch Sensortec BME280 environmental sensor

Pressure range: from 300hPa to 1100hPa
Humidity range: from 0% to 100% RH
Humidity sensor and pressure sensor can be independently switched on/off

Operating voltage: 1.71 V to 3.6 V (Qwiic default: 3.3 V)
I2C and SPI interface
Temperature range:

Full Accuracy: 0°C to 65°C (32°F to 149°F)
Operational: -40°C to 85°C (-40°F to 185°F)

I2C Address: 0x77 (default) or 0x76