Description
Inveo modules allow remote control of devices via Internet. It has 8 relay outputs of 250V and a built-in WEB server. It is adapted for mounting on a DIN rail.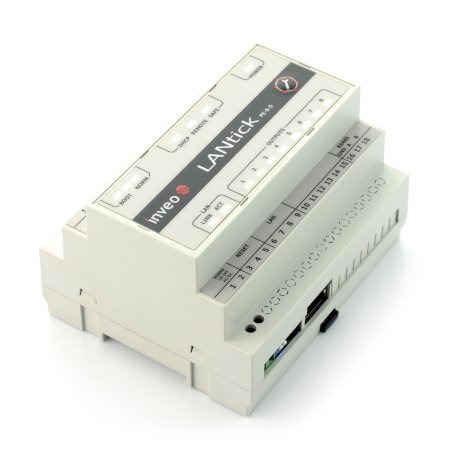 Controlling and setting up the device can be accomplished in several ways:
via the integrated WEB server with visualization
using commands line
a special software for Windows
using the MODBUS TCP Protocol
using the SNMP Protocol
HTTP
KNX-IP
using Android device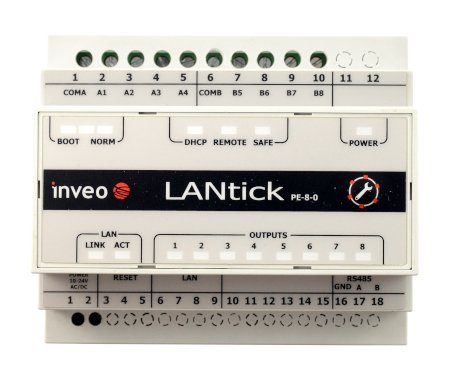 The manufacturer provides a detailedmanualof the LanTick module.
Specification
Supply voltage: 12 to 24V DC
Number of outputs: 8

Output type: relay
Maximum voltage output: 250V AC / 30V DC
Maximum load: 4A per channel
Relay contacts: NO, COM (common for relays 1 to 4 and 5 to 8)
Mode of operation:

monostable
bistable
single release

Switching time: 100 MS

Interface: RJ45 (10Base-T)
Supported protocols:
Operating temperature: 5°C to 50°C
Mounting on DIN rail
Dimensions: 90 x 65 x103mm
Included
LanTick Pro PE-4-4
Patchcord 30 cm