Product description: Grove - Speech Recognizer v1.0 - ISD9160 voice recognition module
Voice recognition module with NuvotonISD9160 based onCortexM0,which is responsible for speech recognition. A built-inomnidirectional microphonethat will pick up sound from all sides. There is also a2-pin connectorforthe loudspeaker,which can respond to commands when properly programmed. The module has 22 English language commands uploaded. The board is equipped with aGroveconnector, for easy connection to theBase Shieldcover. It communicates via theSPIinterface. The module is powered from 3V to 5 V.
Module outputs
The system communicates through the SPI interface, it has four leads on a special Grove connector to which the cable is included in the set.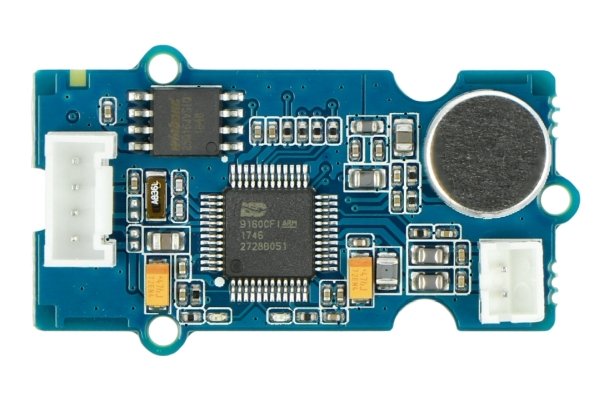 Voice recognition module - Speech Recognizer ISD9160.
Voice recognition module specification
Supply voltage: 3 V to 5 V
Power consumption during operation:

from 25 mA to 80 mA - 3.3 V
from 25 mA to 130 mA - 5 V

Layout: ISD9160
Processor: Cortex-M0 50 MHz
Flash memory: 2 MB
Microphone sensitivity: -43 dB to -37 dB
SNR microphone: 58 dB
Speaker power: 1 W for 5 V
Operating temperature: 0°C to 85°C
Dimensions: 40 x 20 mm
Weight: 5 g
The set includes
Voice recognition module ISD9160
Grove cable