Product description: Grove - Vision AI Himax HX6537 module - Seeedstudio 114992866
A module produced by Seeedstudio that allows the implementation of applications related to artificial intelligence AI and machine learning . It was equipped with the Himax HX6537 chip , an OV2640 intelligent camera with a resolution of up to 1600 x 1200 pixels and with built-in Edge Machine Learning algorithms, as well as a microphone and IMU sensors. The Vision AI module with pre-installed algorithms supports custom ML models and can be used for facial recognition and person detection. The module also works with the Xiao, Raspberry and Arduino series.
Kit contents
Grove - Vision AI Himax HX6537 module
Connecting cable with a Grove connector
Goldpin strip x2
Special features
Easy-to-use AI camera - Edge Machine Learning algorithm allows you to implement applications based on detection of objects
Plug and Play - quick installation and connection allow for almost instant image reading
Very low energy consumption - the module activates only when it detects the movement of objects, otherwise it works in the idle phase
Support for custom ML models - it has preloaded ML classification algorithms for model recognition, which allows you to freely create models to detect various objects and directly apply them in projects
Built-in camera - OV2640 chip with a resolution of up to 1600 x 1200 pixels
Built-in microphone - MSM261D3526H1CPM chip with sensitivity -26 dBFs
Built-in IMU sensor - STLSM6DS3TR-C system working as an accelerometer and gyroscope in three axes
Application of artificial intelligence
Detecting people
Customized Object Detection
Intelligent porter
Fall detection and alarm
Face recognition
Technical Specifications
Working voltage: 5V
Speed: 115,200 baud
I2C interface: Seeed Studio XIAO and Arduino
Programming connector: USB type C
Processor: HX6537-A 400 MHz DSP
Camera: OV2640 with a resolution of up to 1600 x 1200 pixels
Microphone: MIC MSM261D3526H1CPM with a sensitivity of -26 dBFs
IMU system: STLSM6DS3TR-C accelerometer and gyroscope
Tile sizes: 40 x 20 x 13 mm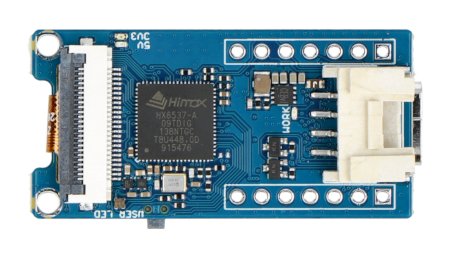 Grove - Vision AI Himax module.
Arrangement of elements
HX6537-A processor
BL702 debugger
MIC microphone MSM261D3526H1CPM
IMU STLSM6DS3TR-C system
Flash SPI memory
Camera connector
DC - DC system
Grove connector
USB Type-C connector
Double 7-pin female socket
RESET button
BOOT button
User button
Power LED
Control diode