Description
Module with digital barometer provides pressure measurement in the range from 300 to 1100 hPa with the accuracy of 1 hPa. The sensor operates with voltages from the range of 3.3 V. It can be used directly by the microcontrollers operating at these voltages, for example,STM32Discovery,Arduino Pro Mini of 3.3 Vorminicomputer Raspberry Pi. To connect with chips of 5 V, for example,the Arduino Uno, the signals need to be connected via voltage converter.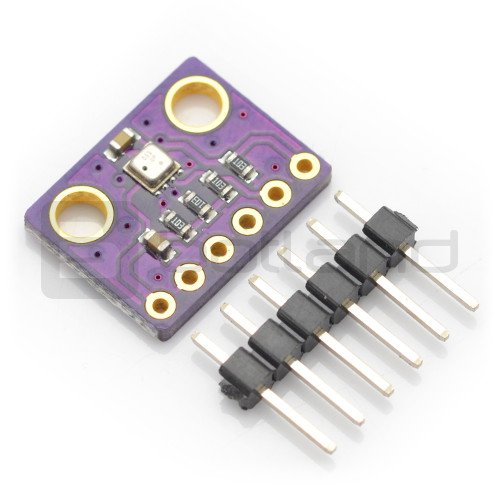 The pins are holes for soldering the goldpin connectors of 2.54 mm pitch (in the set for self-soldering). Straps are to connect the module using wiresor to directly attach to the breadboard.
Pins
The module communicates via the I2C or SPI bus. It has 6 pins.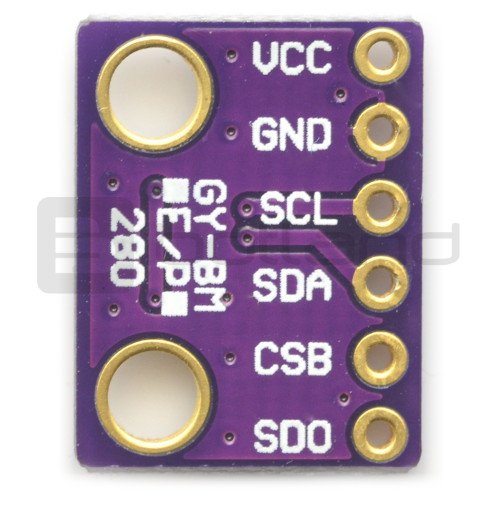 | Pin | Description |
| --- | --- |
| VCC | Supply voltage is 3.3 V. |
| GND | The ground of the system. |
| SCL | Clock line of I2C / SPI. |
| SDA | Data line of I2C / MOSI in SPI mode. |
| CSB | Chip select, the choice of interface's connection. |
| SD0 | MISO in SPI mode. |
Specification
Supply voltage: 3.3 V
Sensor: BMP280 (documentation)
Wide measuring range: from 300 hPa to 1100 hPa
Accuracy: 1 hPa
Communication interface: I2C or SPI
Factory calibrated
Built-in thermometer
Two mounting holes with diameter of 3 mm
Size: 15 x 10 mm
Weight: 0.6 g