Description
Module with real time clock and backup battery (battery included). It allows you to read the time in hours, minutes, and seconds, date: month, day, year. It has 32 KB of EEPROM. The communication interface is an I2C bus(SDA and SCL), data update frequency is 1 Hz (1 second). It is the output of the temperature sensorDS18B20.
Connection
The supply voltage of5 Vis connected to the terminal marked with the same symbol. The I2C bus must be connected to the outputs SCL- clock line andSDA - data line. PinSQis the output of a rectangular signal with the selected frequency (see page 3of the documentation).GNDis the ground system.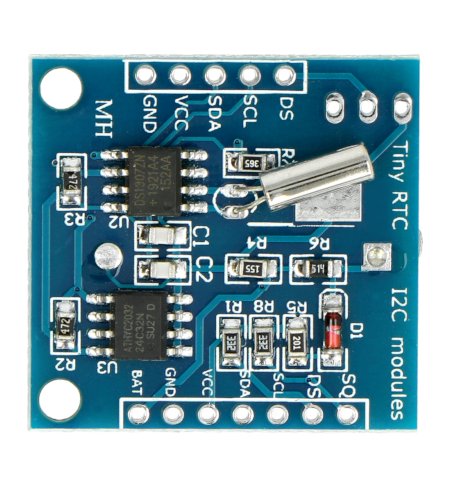 | Pin | Description |
| --- | --- |
| SQ | The output of the square wave signal. |
| DS | The output of the temperature sensor DS18B20. |
| SCL | Clock line of I2C interface. |
| SDA | Data line of I2C interface. |
| VCC | The supply voltage of 5 V. |
| GND | The ground of the system. |
| BAT | The battery output. |
Connectors
Outputs are solder fields for soldering goldpin connectors- 2.54 mm raster (not included). Thanks to them, it is possible to connect the system with thebreakout boardor the main module (for example,STM32DiscoveryorArduino) viawires.
Specification
Supply voltage: 5 V
Current consumption: less than 500

The interface

of communication: I2C / TWI (SDA, SCL)
Update rate: 1 Hz (1 second)
Available data:

Time: time (AM, PM), minute, second
Date: month, day, year

Data storage usingbatteries(not included)
Accurate calendar up to 2100
Memory EEPROM: 32 KB
The dimensions of the plate: 28 x 28 mm