Product description: Tracer car charger
Tracer's high-qualitycarcharger with Power Delivery allows you to charge more than one device, as it has as many as 3USBportsandoneCUSB port. It will be a great solution for the driver and all passengers travelling in one car. The charger isblack, has a 1.5m cable and can even be used at the back of the car. It hasa retractable clipthat can be attached to the seat support or newspaper in the cover.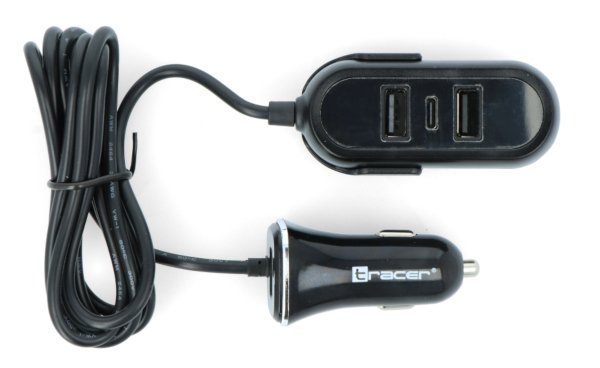 Car charger Tracer 12 V - 24 V Multicharge 3 x USB 7.2 A + PD 18 W.
The passenger charger has2 USB - A portsto which you can connect your phone, tablet, cameras, music players and much more, and one USBCport to power the latest smartphones, netbooks.
Power Delivery
It ensures that devices are charged with the maximum current they can handle. This speeds up charging considerably. The system selects the charging power itself and at the same time protects the battery. Used in new smartphones, consoles, tablets.
Specifications of the car charger
Colour: black
Power: 18 W
Current at driver's panel: 2.4 A
Current intensity at passenger panel: up to 3 A
USB port:

3 x USB - A 2.0
1 x USB - C 2.0

Cable length: 1,5 m
Weight: 79 g