Description
Analog-to-digital vibration sensor with elastic plastic piezoelectric sensor. It is powered with the voltage of 5 V, it works with Arduino modules. The kit includes a cable adapted to DFRobot IO Expansion Shield.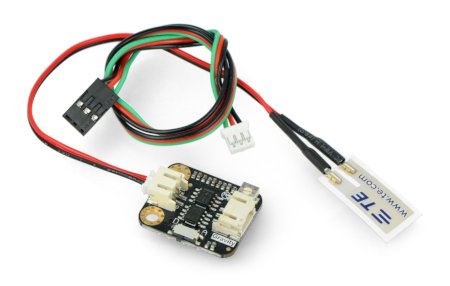 The product is compatible with Arduino
Sample code and detailed information can be found inthe user guide.

The sensor consists of a flexible, polymer film of PVDF with a thickness of 28 µm with electrodes of the type Ag-Ink, laminated on the polyester layer of 0.125 mm equipped with two contacts. Bending the sensor causes the creation of a large voltage (up to 90). The device works as a flexible switch in the case of inflecting through a direct contact, and generated output signal is sufficient to start the phases of MOSFET and CMOS.
Connection
The sensor works in with any microcontroller that has analog inputs, includingArduino. At the output of the module, you can read voltage changes proportional to the vibration force. When you move the switch, the output generates a digital signal. The built-in potentiometer allows to set the trigger level.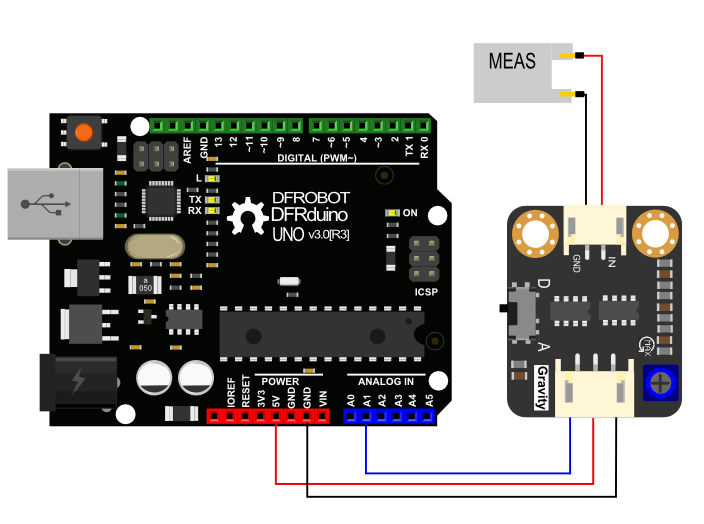 Example of connecting to Arduino.

Specification
Supply voltage: 5 V
Communications: analog and digital signal (selectable)
Operating temperature: 0 °C to 85 °C
Cable for connection withDFRobot IO Expansion Shield
Board sizes: 27 x 22 mm
Weight: 10 g
Set includes:
Analog vibration sensor with piezoelectric film
Connecting cable