Product description: Brass thread - 3D printing insert - various sizes - set of 50 pieces.
Set of50 brass threads for 3D printingin various sizes. Inserts allow to make permanent connections in elements printed in3Dwithout the need of their troublesome threading, which often does not give the intended effect. They can be easily applied to the model byheating upand pressing the thread into the model. The inserts are located in a special organizer, which makes their storage easy.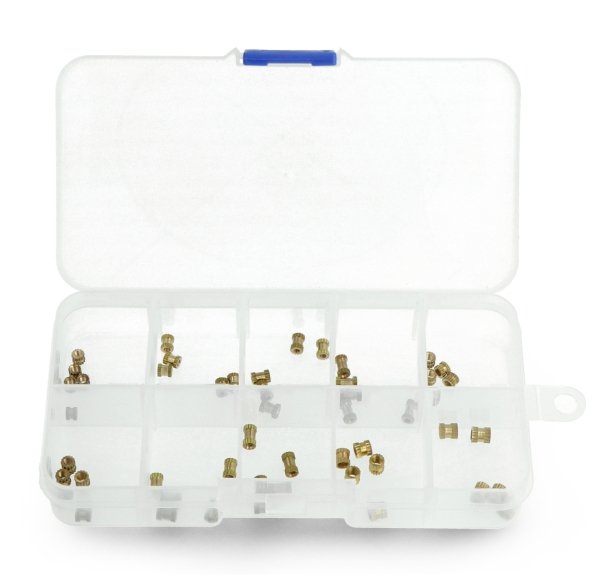 Set of brass threads for 3D printing in the organizer.
Mounting method
To install the insert in the 3D model, heat the threadwith the soldering ironand press it into the hole in the component. In order to avoid bulging around the thread due to the plastic being pushed out by the insert, the thread should be pushed up to approx. 90% of its height during the first phase of assembly, and then, turning the model over, the thread should be placed on a large, flat surface, e.g. a metal plate. This will allow fora safe and aesthetic installation.
Thread specifications
Material of manufacture - brass
Number of pieces in the set: 50
Application: 3D models
The easiestwayto install the thread in the model is to melt it with a hotsolder.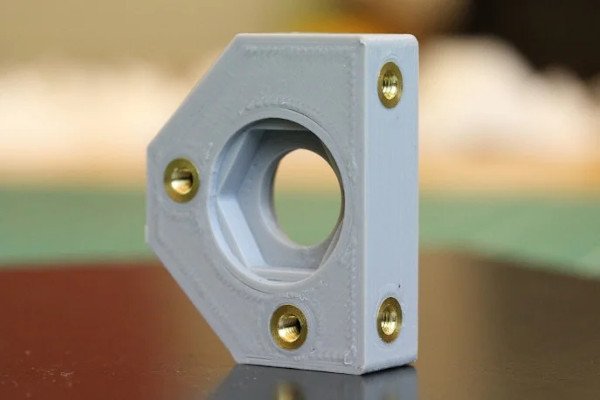 Example element with embedded inserts. The picture comes fromForbotservice.
Content of the set of inserts for 3D printing
M2 x 3 - 5 pieces
M2 x 4 - 5 pieces
M2 x 5 - 5 pieces
M2 x 6 - 5 pieces
M2,5 x 3 - 5 pieces
M2,5 x 4 - 5 pieces
M2,5 x 5 - 5 pieces
M2,5 x 6 - 5 pieces
M3 x 4 - 5 pieces
M3 x 5 - 5 pieces