Product description: ArduCam AR0134 1.2 MPx CMOS camera with LS-6020 M 12 x 0.5 lens
Camera module with AR0134 CMOS sensor of 1.2 MPx resolution and 1/3'' size. Frame rate at full resolution of 1280 x 960 px is 54 fps. The device can be operated in video (master) mode or in triggered shutter mode.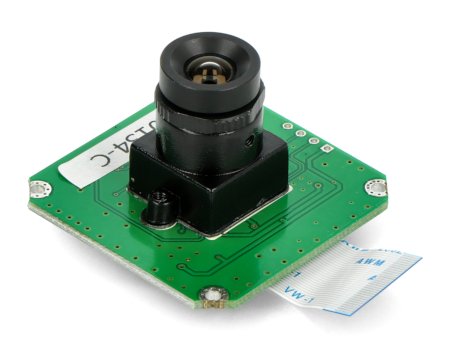 ArduCam AR0134 1.2 MPx CMOS camera with LS-6020 M 12 x 0.5 lens.

Specification
Supply voltage: 3,3 V
Sensor: AR0134 with global shutter
Resolution: 1280 x 960

px (1.2 MPx)

Frame rate: 54 fps for full resolution
Lens size: 1/3 "
Sensitivity: 5.3 V/(lux*s)
Pixel size: 6.0 µm x 6.0 µm
Dynamic range: 64 dB
Parallel interface
Lens: LS-6020 CS mount
ArduCam AR0134 1.2MPx CMOS camera with LS-6020 M12x0.5 lens
Camera for Raspberry Pi from renowned manufacturer ArduCam is an expansion module with AR0134 1.2MPx sensor at its heart. It can record video at 54 frames per second at 1280 x 960 px resolution.
The LS-6020 lens is included from the factory, but ArduCam's Raspberry Pi camera also provides an easy lens swap for other lenses compatible with the M12 mounting standard.
Simple mounting and powerful capabilities
The Raspberry camera with the AR0134 sensor is connected using a GPIO interface and requires the ArduCAM USB Camera Shield overlay for proper operation. Supply voltage of the module is 3.3V.
ArduCam can be used in many projects developed on Raspberry Pi. The camera can operate in video mode or in shutter release mode. It can be successfully used for automation systems and remote monitoring and surveillance of property.