Product description: PiJuice - solar cell 40 W / 5.5 V 705 x 650 x 18 mm
The PiJuice solar panel is an ideal device for charging and/or powering the PiJuice HAT and Raspberry Pi overlay using solar energy. It has two adjustable 5V USB outputs connected to the internal smart-power chip, so it also works with smartphones, tablets, laptops, cameras, etc. Allows you to charge two devices simultaneously.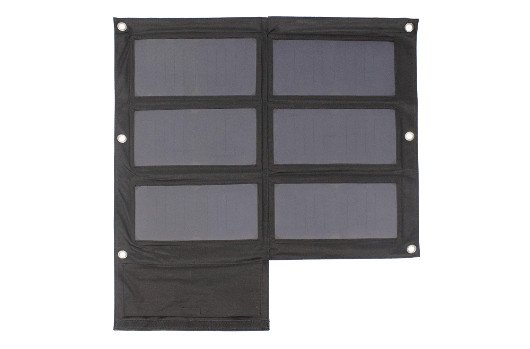 PiJuice - solar cell 4 0W / 5.5 V 705 x 650 x 18 mm.
Main features
Mobile design, allowing you to take the panel on any trip.
Easy mounting to backpacks, trees, tents, etc.
Comes with a zippered pouch.
Weighs only 900 g.
IPX4 waterproof class.
Robust design.
Two adjustable 5V USB outputs.
High quality SunPower solar panels.
Specification
Solar panel: 6.5 V / 40 W
Adjustable output : 5 V / 35 W
DC Jack output : 19 V
Single USB output: max. 12 W (There are two outputs on the board, which can be used simultaneously)
Built-in smart-power circuit
Dimensions:

folded: 330 x 160 x 51 mm
unfolded: 705 x 650 x 18 mm

Weight: 900 g
Set includes
Solar panel 40 W
USB - micro USB cable
User manual