Product description: Tuya - intelligent plug 3680 W ZigBee
Intelligent plug for switching on and off devices with maximum power consumption of up to 3680W.It uses ZigBee protocol and Tuya Smart Life application for communication. The application provides a preview of the current power consumption. Aconnection to the ZigBee gateway is requiredforproper operation of the sensor.
Main features of the plug
Remote on/off using the application
Manual switching on/off with the built-in button
Possibility to set the on/off time - Timer function
Planned weekly cycle of automation on / off - Scheduling function
Setting dependencies between other elements of the automation system - Scenario function
Preview of current electricity consumption as well as an overview of consumption history during the day, week, month and year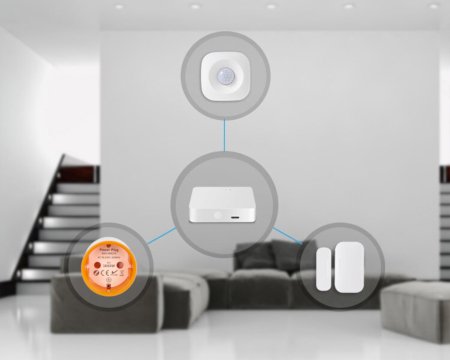 The intelligent plug for proper operation requires connection to the ZigBee gateway.
Note
The device to work properly requires a connection to theZigBeegateway,which can be purchased separately.
Tuya plug specification
Colour: white
Power: 3680 W
nest: type F, schuko
Communication: ZigBee 3.0 according to standard 802.15.4
Power supply: 230 V AC
Antenna: built-in
Dimensions: 45 x 70 mm
Weight: 78 g