‌
Product description: 3D printer - Creality Ender-3 S1 Plus
Version of the Creality Ender-3 S1 3D printer with an increased working area: 300 x 300 x 300 mm . The manufacturer used a proprietary, high-temperature Direct Drive "Sprite" extruder with a double gear (knurled wheel) in the device. The maximum operating temperature of the hotend head is 260 ° C. The Ender-3 S1 Plus is equipped with the CR-Touch sensor that facilitates the leveling process. Stability during the process of forming 3D models is ensured by a double, synchronized Z axis. The dimensions of the printer structure are 557 x 535 x 655 mm.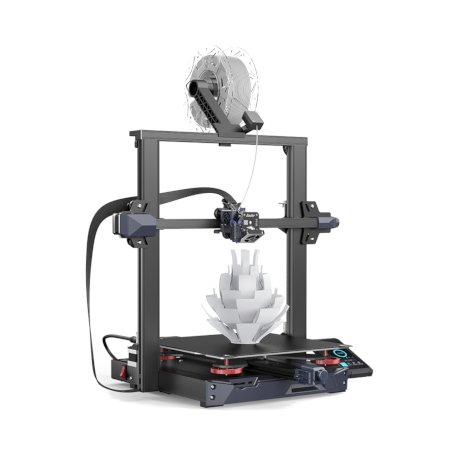 3D printer - Creality Ender-3 S1 Plus .
Unboxing of the Creality Ender-3 S1 Plus 3D printer .
Larger working area size
The Ender-3 S1 Plus offers a working area of 300 x 300 x 300 mm. It allows you to create larger models than the standard versions of the S1 series 3D printers, while maintaining the consistently high quality of the finished prints.
Easy to use touch screen
The presented printer model is controlled by a 4.3 '' touch display. A clear menu layout based on UI best practices makes it easy to use the S1 Plus. In addition, the screen has an automatic dimming function after 3 minutes of inactivity, which saves energy.
CR-Touch leveling sensor
The Ender-3 S1 Plus is equipped with the CR-Touch system. It is the manufacturer's proprietary solution designed to facilitate the process of leveling the work table. The sensor measures 16 points on the hotbed and automatically compensates for printing heights in the event of unevenness. This significantly speeds up the process of preparing the printer to work.
Double Z axis
Synchronized, double Z axis increases printing precision. Two trapezoidal screws in combination with two stepper motors ensure stable, vertical movement of the printhead assembly. The models formed in this way are characterized by a high level of detail.
Extruder Sprite
"Sprite" is an original project by Creality. It is an extruder made entirely of metal, operating on the basis of the Direct Drive solution (direct drive). The extruder is equipped with a double knurl, which ensures a stronger and more stable movement of the filament . The head design is light. Perfect for working with flexible thermoplastics (eg TPU). The maximum working temperature of the nozzle on the Ender-3 S1 Plus is 260 ° C.
Quick montage
The Ender-3 S1 Plus is delivered to the customer as a kit for self-assembly, simplified assembly. It is composed of almost 96%. Only a few simple steps are required, including: installation of the Z axis frame, display and filament holder to be able to enjoy the assembled 3D printer.
Comparison of the Ender-3 S1 series printers
Ender S1 series - differences between the models
Model:
Ender-3 S1
Ender-3 S1 Pro
Ender-3 S1 Plus
Nozzle temperature:
260 ° C
300 ° C
260 ° C
Bed temperature:
100 ° C
110 ° C
100 ° C
Compatible Filaments:
PLA, TPU, PETG, ABS
PLA, ABS, Wood, TPU, PETG, PA
PLA, TPU, PETG, ABS
Throat pipe type:
standard (with handle and plastic housing)
titanium (with metal handle and housing)
standard (with handle and plastic housing)
Hotbed area:
PC spring steel
PEI spring steel
PC spring steel
Display:
color 4,3 '' (with a knob)
color 4,3 '' (touch)
color 4,3 '' (touch)
Display sleep:
after 5 minutes of inactivity
after 3 minutes of inactivity
after 3 minutes of inactivity
Device dimensions:
487 x 453 x 622 mm
490 x 455 x 625 mm
557 x 535 x 655 mm
Mass:
9.1 kg
8.6 kg
10.25 kg
Detailed technical specification of the Creality Ender-3 S1 Plus 3D printer
Technical Specifications
Printing method:
FDM
Supply voltage:
from 220 to 240 V AC
Power:
350 watts
Nozzle Diameter:
standard: 0.4 mm
Supported Filament:
PLA, TPU, PETG, ABS
Filament Diameter:
1.75 mm
Printing Thickness:
from 0.05 mm to 0.4 mm
Printing accuracy:
+/- 0.1 mm
Extruder type:
Direct drive
Display:
4.3 '' LCD (touchscreen)
Operating mode:
USB (USB Type-C), SD card
Print Size:
300 x 300 x 300 mm
Print Speed:
up to 150 mm / s
Nozzle temperature:
260 ° C
Bed temperature:
100 ° C
Printer dimensions:
557 x 535 x 655 mm
Mass:
10.25 kg