Description
The MEMS module allows you to measure acceleration, magnetic field and angular velocity in three-dimensional space. Using this data, the user can identify the device in three-dimensional space. Sensors of this type are used in smartphones, tablets, as well as in various controllers of video games.
The I2C interface is to communicate with the central unit. The module has necessary for the correct operation of the system, passive elements. Pins are the holes for soldering of the goldpin connectors(not included) which enables the connection of the sensor viawires or a direct atachment to the breadboard.
Specification
Working voltage: from 1.9 V to 3.6 V
Communication interface: I2C
Gyroscope:

3 axis: X, Y, Z
Adjustable range: ± 245, ± 500, and ± 2000 °/sec
Resolution: 16 bits

Accelerometer:

3 axis: X, Y, Z
Adjustable range: ± 2 g, ± 4 g, ± 6 g, ± 8 g, ± 16 g
Resolution: 16 bits

Magnetometer (compass)

3 axis: X, Y, Z
Range: ± 4, ± 8, ± 12 Gauss
Resolution: 13 bits

Pins: holes for goldpin connectors - 2.54 mm pitch
Board dimensions: 23 x 10 mm
Mounting hole with a diameter: 3mm
Details concerning the technical parameters can be found inthe documentation.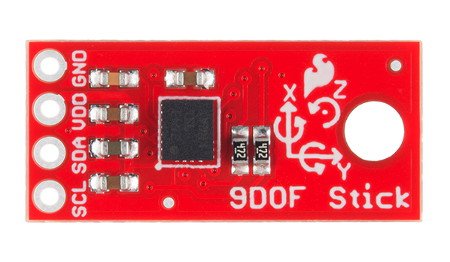 Since the maximum voltage, with which the system works, is 3.3 V, to work with Arduinoneeded is a voltage converter. The exceptions are the modules operating with voltages of 3.3 V, for example,Arduino Pro Mini 328 - 3.3 V/8 MHz.
The product is compatible with Arduino
To facilitate the use of this module, a manufacturer prepared a user manualalong with a sample program for the Arduino and design files with a library, available onthe GitHub.
Pins
The sensor has pins for mounting goldpin connectors - the pitch of 2.54 mm(not supplied, must be purchased separately and self-soldered).
| Pin | Description |
| --- | --- |
| VDD | The supply voltage from 1.9 V to 3.6 V. |
| GND | The ground of the system. |
| SDA | The data line of the I2C bus. |
| SCL | Clock line of the I2C bus. |