Product description: SparkFun Artemis microcontroller board - SparkFun DEV-16828
A board from SparkFun equipped withArtemismodule,accelerometerand MEMS microphone. The heart of the board is Artemis chip based onARM Cortex M4Fprocessor clocked at48 MHz and 96 MHz in turbo mode. Current consumption is up to6 uA / MHz. It is equipped with 1 MB of flash memory and 384 kB of RAM. Artemis module is equipped withBluetooth 5.0communication.The board can be programmed in Arduino IDE environment, just like Arduino UNO module. The device allows to runRTOSsuch as ARM Mbed OS or AmbiqSDK. The board is equipped with LIS2DH12TR accelerometer chip, microphone,Qwiic I2Cconnector and Himax CMOS camera connector. All Artemis module connectors have been placed on2.54mm goldpinstrips. These are the interfaces such as: ADC, PWM, UART. The board communicates with a computer through aUSB type Cconnector, it is visible as a mass storage device. The module is programmed using the "drag and drop" method.
The manufacturer has prepared a
user guide
with sample programs.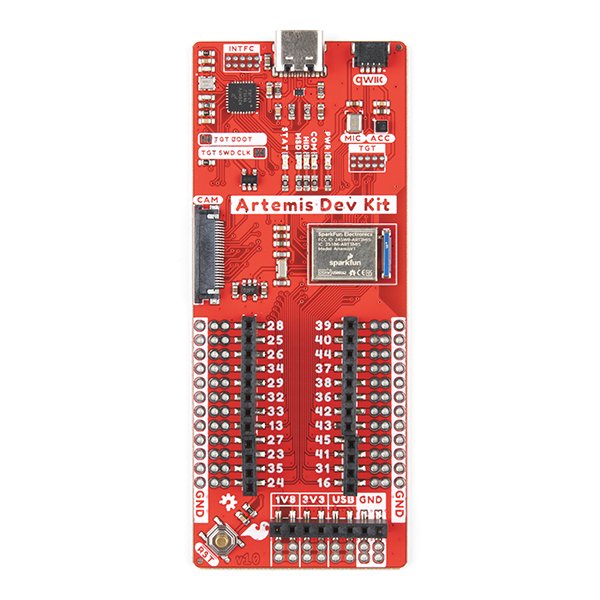 The board is equipped with Bluetooth 5.0 Artemis module.
Specification of the board with Artemis microcontroller
Compatible with Arduino, Mbed OS and AmbiqSDK
Power supply:

5V via USB type C connector
1,8 V; 3,3 V; 5 V via GPIO connectors on board

Interface chip (MKL26Z128VFM4 ARM Corex M0+):

drag and drop programming
SWD interface
JTAG PTH programming

Artemis module:

Apollo3 ARM Cortex M4F
Bluetooth Low Energy 5.0
24 I/O leads:

eight 14-bit ADC pins
eighteen PWM pins 16-bit
two independent UART ports
three I2C / SPI lines

JTAG PTH programming

Sensors:

3-axis accelerometer (LIS2DH12)
PDM microphone (SPH0641LM4H-1)
Camera connector (for Himax HM01B0)

Qwiic connector: I2C line
We also offer
a set
with Himax camera and USB cable.