Description: Aviator - mechanical model kit - veneer - 726 parts - Ugearsmodels 70053
Advanced space model - aviator -designed for self-assembly from the companyUgearsmodels. The set includes three modules: plane, helicopter and main control panel. The model consists of726 elementsmade of veneer (plywood), so that the model smells of wood. Each element is precisely made by using laser cutting method. The model doesnot have anyelectronic components, and the moving parts are set in motion by a rubber band. The package includes sheets of plywood, from which it is enough to squeezeready elementsand connect them together according to the illustrated instructions included in the kit. Noglueor additionalassemblyparts are required to assemble the model. Assembly takesbetween 14 and 16 hours.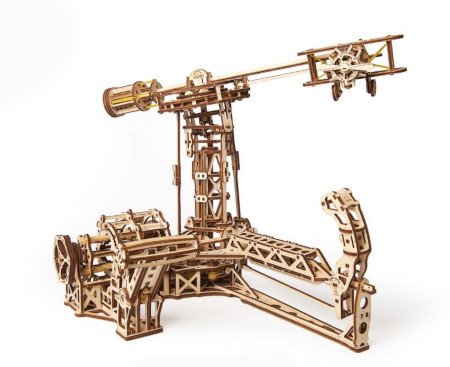 The design is based on an aerodynamic biplane scheme with struts and ties and a five-piston rotary engine.
Special features of the Aviator model
Provides hours of unforgettable experience not only during the assembly of the model but also during later learning to control it
The kit consists of three modules: plane, helicopter and control panel
The helicopter has a cockpit with opening doors and a three-blade propeller
The control panel is a complicated device which has levers to control the model:

the steering wheel by means of a dial regulates the angle of roll and longitudinal sway
the rudder stick decides the speed

Sophisticated design in an openwork design allows you to observe the operation of the machine
Models from Ugearsmodels are an intelligent and absorbing hobby and an ideal gift for everyone, regardless of age
All jigsaw puzzles are made of veneer (plywood), so they smell like wood
The axes can be lubricated with paraffin or wax to make the mechanism run more smoothly
The elements are set in motion by means of a rubber band hooked between the appropriate elements (for details, see the manual)
Technical specification of the kit
Model: aviator
The model is designed for self-assembly without glue
Language of instruction: UKR, ENG, DEU, FRA, POL, SPA, ITA, RUS, JAP, KOR, CHI
Material of the elements: veneer
Number of elements: 726 pieces.
Level of difficulty: very difficult
Assembly time: 14 to 16 hours
Dimensions of the model: 400 x 340 x 310 mm
In our offer you can find also other mechanical models fromUgearsmodels.