Description: Cash register - mechanical model to assemble - veneer - 405 elements - Ugearsmodels 70136
Woodenmechanical model for self-assembly fromUgearsmodelsin the form of a coded cashregister. The principle of operation is based on real cash registers, and the coins and notes placed inside are protected by a combination lock. The kit consists of190 elementsmade of veneer (plywood), so that the assembled model smells delicately of wood. The modeldoes not have anyelectronic components. The package contains plywood sheets from which you just need to press out thefinished partsand connect them together following the illustrated instructions included in the kit. Noglueor additionalassemblyparts are needed to assemble the model. Assembly takesfrom 5 to 6 hours.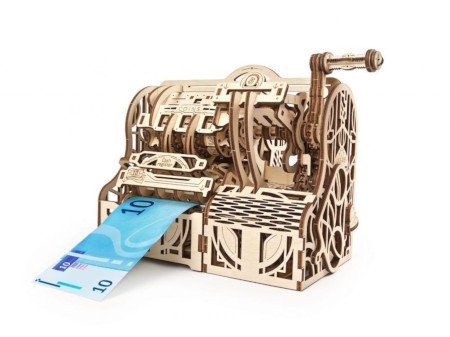 Made with attention to the smallest detail, so it can be an original decoration of almost any interior.
Special features of the model - mini cash register
Miniature cash register - a combination of fun and science, maintained in the historic art deco style
A simple cash register mechanism is useful in learning counting and can be used by the youngest in the private lemonade business
The model is equipped with a container that accepts coins from 10 mm to 35 mm in diameter, as well as a counter and automatic coin detector
Insert the coin into the special slot and then lift and drop the lever - the registered coin will be safely placed inside the cash register
The cash register also allows you to store banknotes - twist the mechanism with a rubber band and pull the lever up and down 10 times
To unlock access to the stored money you need to enter a secret code and turn the key until the whole casket comes out
All spatial puzzles are made of veneer (plywood) so they smell of wood
The axles can be lubricated with paraffin or wax to make the mechanism run more smoothly
The elements of the Ugearsmodels are set in motion by means of a rubber band hooked between the respective elements (for details see the instructions)
Technical specification of the set
Model: cash register
Model designed for self-assembly without glue
Language of instruction: UKR, ENG, DEU, FRA, POL, SPA, ITA, RUS, JAP, KOR, CHI
Material of the elements: veneer
Number of elements: 405 pieces.
Level of difficulty: difficult
Assembly time: 5 to 6 hours
Dimensions of the model: 250 x 150 x 180 mm
In our offer you can also find other mechanical models fromUgearsmodels.