Description: Gravity - CCS811 air purity sensor - I2C - DFRobot SEN0318.
The module is equipped with a CCS811 sensor which allows to measure eCO2 and TVOC (volatileorganic compounds) dust concentration in the air. The sensor can be widely used in many projects, such as: air purity sensors, air purifiers, ventilation systems. It is equipped with a connectorGravity.It communicates through a popular I2C interface. Powered by3.3 Vor5 V. Compatible with Arduinoand RaspberryPi.
Arduino compatible product
The manufacturer provides auser guide forArduino.
Air purity sensor leads
The module communicates with microcontroller e.g. Arduino via popular I2C interface. The board is equipped with a Gravity connector, a compatible cable is included.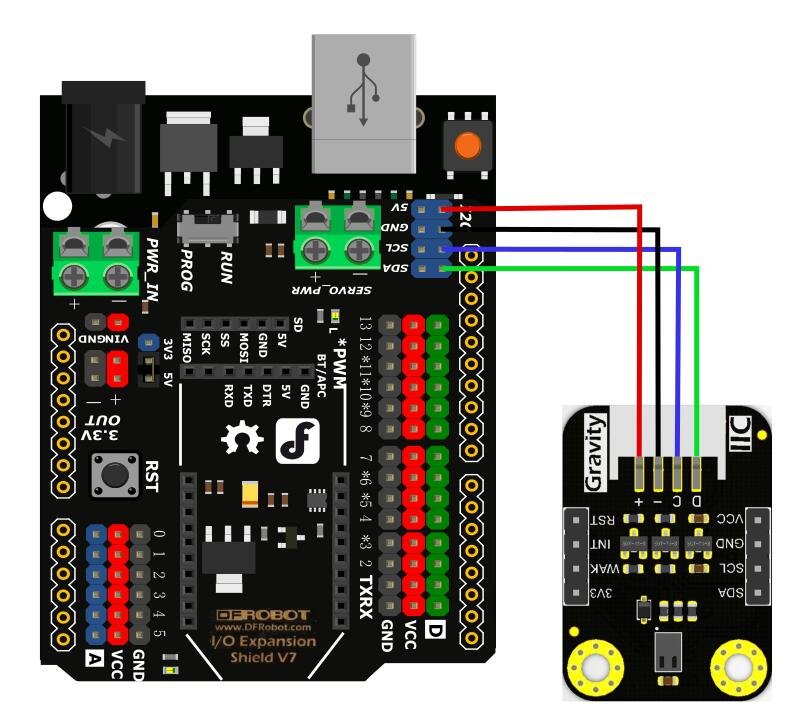 Example of sensor connection with Arduino.
| Pin | Description |
| --- | --- |
| VCC | 5 V power supply. |
| GND | The weight. |
| SCL | I2C bus clock line. |
| SDA | I2C bus data line. |
| 3V3 | Power supply 3.3 V. |
| WAKE | Switching pin: low state - wake up / high state - sleep. |
| INT | External interruption in low state. |
| RST | Reset: after a low state. |
| ADDR_SEL | Select I2C address: 0x45 - low state (default), 0x5B - high state. |
Air quality sensor specification CCS811
Operating voltage: 3.3 V to 5 V
Sleep current consumption: 0.7 uA
Warm-up time: up to 15 seconds
I2C address: 0x5A (default) / 0x5B
Operating temperature: -40°C to 85°C
Operating humidity: from 0 ppb to 1100 ppb
Dimensions: 31 x 22 mm