Description
iNode Care Relay is a programmable Bluetooth 4.0 transmitter, working with iNode Care Sensor. Designed for home automation. It allows you to turn on/off other devices when certain events occur, for example, exceeding the specified temperature, humidity, the position change of the sensor, etc. You can control it via smartphone, tablet or computer. It can work in the received BLE frames retransmission mode.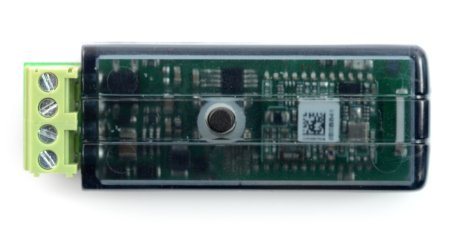 The output can be either NO or NC type, monostable, impulse or PWM. In the device, you can appoint up to 512 iNode Care ID sensors with which it cooperates. The list can be easily edited in the computer. This feature is especially useful for access control because you can block a lost ID's access.

Additional, mounted on a slide panel iNode Care Sensor 5 enables iNode Care Relay to turn on the exit only when the car will be in a certain place in front of the gate.
Software:
Apps for ANDROID and WINDOWS. Configuration software iNodeSetup.exe works on Windows with Bluetooth adapter based on the CSR 8510 chipset or Serial USB Transceiver iNode, iNode LAN. Linux system requires iNode Serial Transceiver USB and/or iNode LAN, and e.g. Ubuntu with Wine. The current version of firmware for iNode products available on the technical support site: http://support.elsat.com.pl/ user: inode, with no password.
iNode Control app is available on phones or tablets with Windows Phone 8.1, or Windows 10 which allows direct control of iNode Care Relay.
Application
Home automation
Gate automation
Specification
Bluetooth BLE - configurable from a PC

power: -18 dBm to 8 dBm (the maximum distance up to 200m in open space)
the name of the device
output type: NO/NC
the method of operation of the output: monostable, impulse or PWM
logical network from which signals are received
the user's password
the password to access the device - independent of the user's password
Power supply: 6V up to 30V
Current: 15mA - scan mode 3.5 mA - in a transmission mode
The data memory

The possibility of replacing the software is via a USB Protocol X-modem

One button control
Single output with zero voltage: 60 VDC or 40 VAC 500 mA 2,5

Ohms (solid state relay PhotoMOS type)

Working temperature: from -20°C to 45

°C

Humidity: 35% to 80% RGH
Chipset: CSR 101x
Dimensions: 50 x 20 x 15mm
Weight: 15g