Description of Laboratory power supply Zhaoxin RXN-305D 30V 5A
Stabilized laboratory power supply with smoothly adjustable voltage in the range from 0 to 30 Volts and current in the range from 0 to 5 A. The power supply is cooled by the fan what allows the supply to work in constant mode.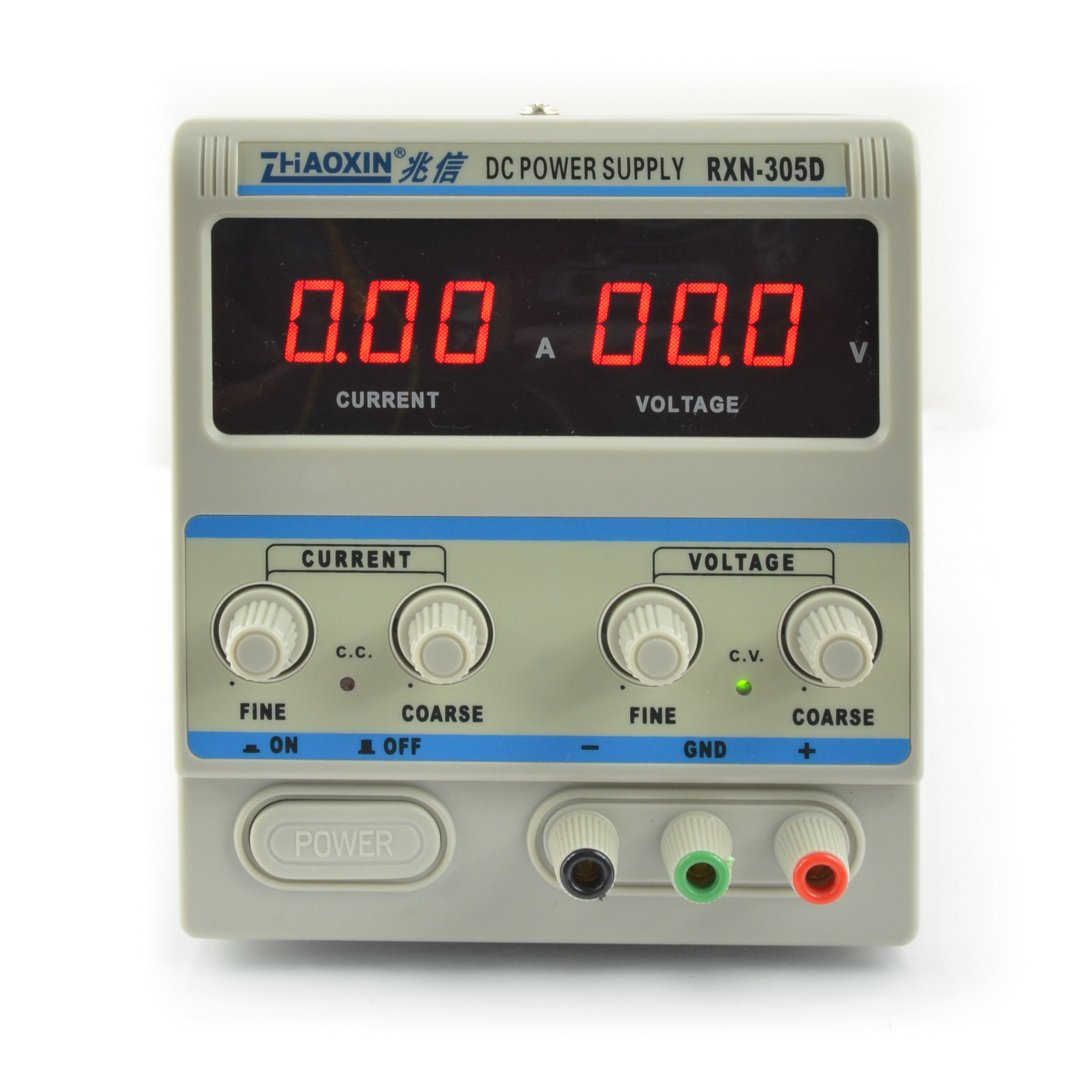 The power supply has an ability to roughly and precisely adjust the voltage and limitation of current.
Key features
Regulations:

Smoothly adjustable output voltage in the rangefrom 0 V to 30 V
Smoothly adjustable output current in the range from0 A to 5 A
The device can operate in the following modes:

Operation in the mode of CV (Constant Voltage)- of constant output voltage
Operation in the mode of CC (Constant Current) - of constant current load
Current capacity up to 5A
Simultaneous read of measurement of voltage and output current on display
Voltmeter: LCD display 3,5 digits with a resolution of 0.1 V
Ammeter: LCD display, 3.5 digits with a resolution of 0.01 A
Protection against short circuit(with a short circuit, it is automatically disabled)
Active cooling via built in fan - constant operation
Specification: Laboratory power supply Zhaoxin RXN-305D 30V 5A
Supply voltage: 230 V / 50 Hz (network)
Built-in digital display
Regulation: coarse and precise (of voltage and current, current limitation)
The short-circuit protection
Operating temperature: -10°C – 40°C
Humidity: <90%
Reading accuracy of voltmeter: ± (1% + 1 digit)
The precision of ammeter: ± (1% + 1 digit)
The coefficient of voltage regulation CV: ≤ 0,01% + 2 mV
Voltage of ripples and noise voltage: ≤ 0,5 mVrms
Current stabilization: ≤ 0,2% + 3 mA
Voltage of ripples and noise of current: ≤ 2 mArms
External dimensions: 275 x 126 x 155mm
Weight: 4,54 kg
Included
Laboratory power supply Zhaoxin RXN-305D
Power cable
The user manual
Nota directory Zhaoxin RXN-305D