Product description: Voltmeter KWS-A300 with current transformer - 50 - 30 V / 100 A.
The KWS-AC300is a closed-core ACtransformerthat allows you to measure current parameters. A small LCD display shows dataindicating voltageand current, temperature, operating time and kWh consumption. The maximum measurement value for current is100 A,measured voltage rangesfrom 50 V to 300 V AC.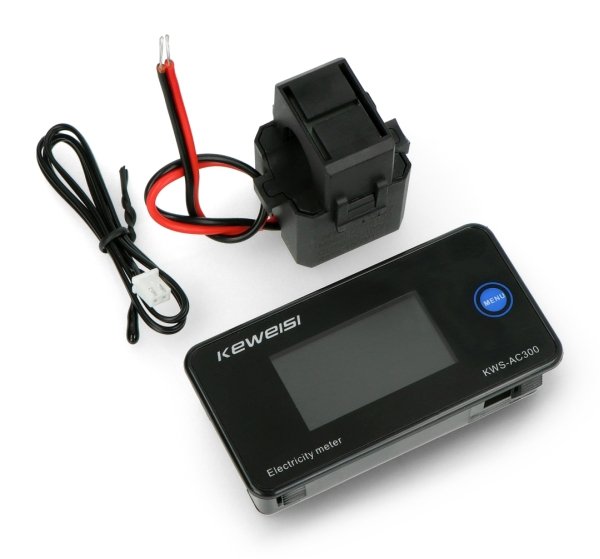 Voltmeter KWS-A300 with current transformer.
Description of outputs and method of connecting the transformer
The KWS-AC300 hasfourscrew terminals located at the back of the unit. Below there is a drawing showing the way of connecting the transformer and a table with description of the connections.
Diagram of the leads and example of current transformer connection.
| Symbol | Description |
| --- | --- |
| L | Power cable - 50 to 300 V. |
| N | Power cable - neutral |
| CT | Current transformer |
Voltmeter specification with AC transformer
Measured voltage range: 50 V to 300 V AC
Measured current range: 0 A to 100 A
Measured power range: 0 to 30 kW
Energy consumption measuring range: 0.01 kWh to 19999 kWh
Measurement time range: up to 200 hours
Temperature measurement range: -10°C

to 99°C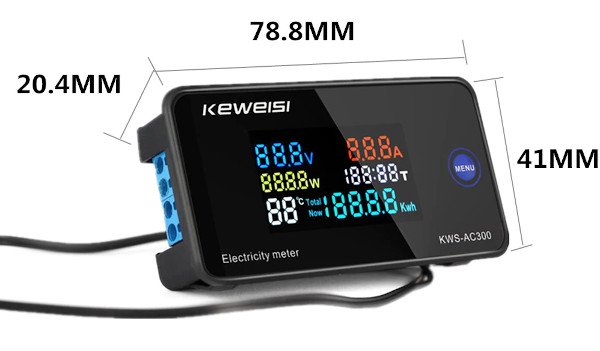 Dimensions of the device.
Resetting a given device display is done after pressing the menu button for 5 seconds.