Product description: Non-contact liquid level sensor - digital - DFRobot SEN0370
Manufactured byDFRobotnon-contact liquid level sensor equipped with status indicator and sensitivity adjustment. Its main application is liquid level detection in all kinds ofnon-metallic pipes with an external diameter of up to 10 mm. The device allows real time transmission of sensor status information. It also comes with a 4-pin sensor adapter, which allows you to directly transfer the signal from the sensor to e.g. a microcontroller.Arduinoor other microcontroller. With this liquid sensor and its wide application, it is possible to detect liquid in water dispensers, small tubes and perfusion tubes. The liquid level sensor is developed based on advanced signal processing technology using high performance circuitry. The sensor measurement is not affected by container wall thickness or contamination and the presence of acids and alkalis.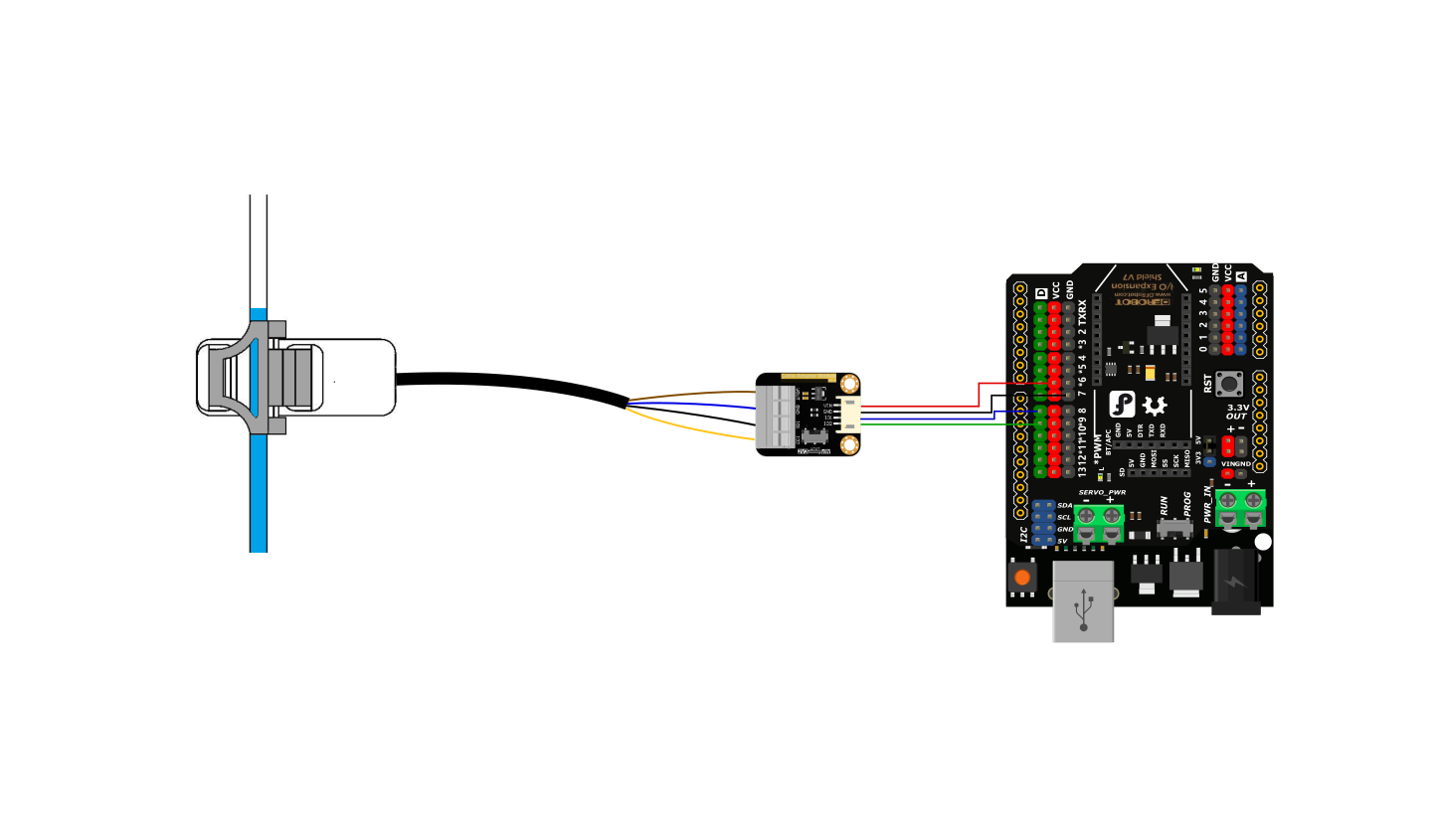 Connection diagram of sensor with Arduino.
| Number | Pin | Description |
| --- | --- | --- |
| 1 (left, brown) | VOUT | Liquid sensor power supply 5 V to 24 V |
| 2 (left, blue) | GND | GND |
| 3 (left, black) | IO1 | Liquid front/rear sensor output |
| 4 (left, yellow) | IO2 | Liquid level sensor signal output |
| 1 (right, red) | VIN | Power supply |
| 2 (right, black) | GND | GND |
| 3 (right, blue) | IO1 | Sensor output forward/reverse |
| 4 (right, green) | IO2 | Liquid level signal output |
Product compatible withArduino
In theuser guideyou will find useful information like sensor pinouts and sample code.
Specification for non-contact liquid level sensor
Power supply: 5 V to 24 V
Response time: 500 ms
Operating temperature: from -5°C to 105°C
Suitable pipe diameter: up to 10 mm
Liquid level error: ± 1.5 mm
Material: ABS
Waterproof: IP65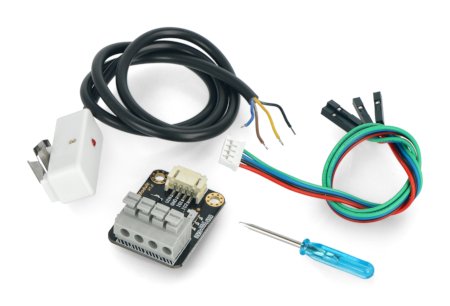 The picture shows the composition of the set.
The set includes
Level sensorsmall diameter x1
Gravity: 4-pin sensor adapter x1
Screwdriver x1