Product description: Mini Prong Soil Moisture Sensor for BBC micro:bit - Kitronik 56107
A small size soil moisture sensor created by Kitronik to work with the boardBBC micro:bitboardin V1 and V2 versions. The sensor has connectors for connectingcrocodile terminals. The module has two pads to be placed in soil, moisture is determined by changing the resistance. Theanalogue connectorof the micro:bit module is used to read the moisture parameter. The module is powered by 3 V, from the micro:bit BBC board. The micro:bit board can be powered by 5 V through themicroUSBconnector or by the JST socket using aLi-Pol battery. The sensor can be programmed using any micro:bit editor, such asMicrosoft MakeCode. In order to extend the life of the sensor, it should be programmed not to measure moisture all the time, but at specific time intervals. Continuous measurement promotes rapid corrosion of the electrodes.
Otherextensionsfor the BBC micro:bit module are also available.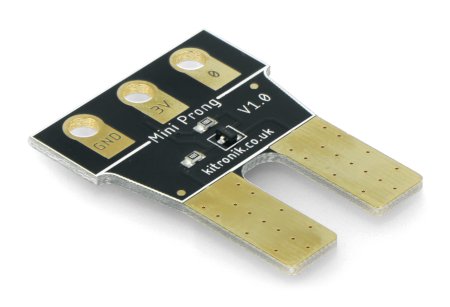 Soil moisture sensor for the BBC micro:bit.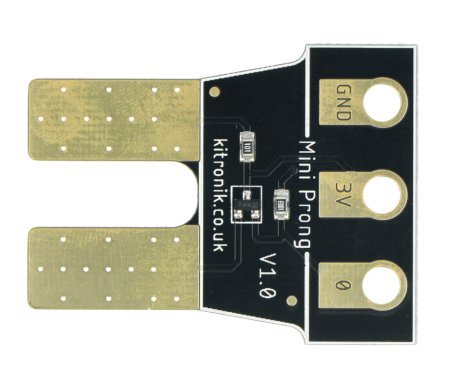 Main functions of the sensor
Measurement of the soil moisture level
Connection via crocodile connectors.
Compatible with BBC micro:bit V1 and V2
Programmable in any micro:bit editor
Communication: analogue connector
Supply voltage: 3 V
Three connectors in the form of pads
Dimensions: 43 x 33 x 1.6 mm
Connection to BBC micro:bit
The board is designed to be connected to the BBC micro:bit module using crocodile connectors. Pin 0 of Mini Prong should be connected to P1 or P2 if P0 is already in use. GND and 3V pins should be connected to GND and 3V pins of micro:bit module.
Producer prepared
user guide
for Mini Prog soil moisture sensor module.