Product description: Carrier Board Mini - mini IoT extension board - for Raspberry Pi Compute Module 4 - DFRobot DFR0767
The Router Carrier Board Mini is a mini extension in the form of an IoT card for Raspberry Pi Compute Module 4. The extension is equipped with two Ethernet connectors, a microSD memory card slot, as well as a USB type C connector and a 26-pin connector compatible with Raspberry Pi. It can be used with the OpenWRT system. When used in conjunction with the Raspberry Pi Compute Module 4, it creates a compact router. The module is also compatible with Raspberry OS and Ubuntu Server.
The Carrier Board Mini router, when connected to a network card via PCle, provides two network (gigabit) ports. It offers much better performance and stability than a USB connected network card solution.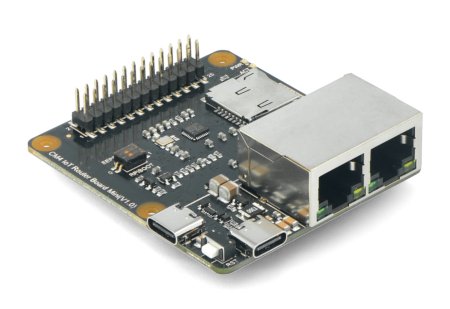 Router Carrier Board Mini - a mini IoT expansion board designed for use with Raspberry Pi Compute Module 4. The kit does not include the Raspberry Pi CM4 Compute Module 4, this can be purchased separately from our store.
Product compatible with Raspberry Pi CM4
A detailed user guide is available on the manufacturer's website to help you get started with the module. There is also a list of necessary hardware requirements and components to ensure proper functioning.
Technical specification Router Carrier Board Mini
Extension compatible with Raspberry Pi Compute Module 4 (CM4) series
Ethernet Ports: 2

ETH1: Compute Module 4 built-in
ETH2: PCI Express 1000BASE-T NIC

USB ports: 2

1 x USB Type C connector - for power supply
1 x USB Type C connector - USB 2.0 High Speed

Memory card: built-in microSD slot (only non eMMC modules supported)
GPIO: 26-pin GPIO compatible with Raspberry Pi
Module power supply: USB type C 5 V / 3 A
Operating temperature range: 0°C to 80°C
Module dimensions: 55 x 62 mm