Specification
The supply voltage VCC: 5 V
The switching state of the relay via low state
Relay SRD-5VDC-SL-C (documentation)

Coil voltage: 5 V
The maximum voltage of contacts: 250 VAC, 125 VDC*
Maximum current:

10 A for  250 VAC
15 A for 125 VAC

Tile sizes 43 x17 mm
Description
The module allows to control the actuators consuming the current up to 15 A with microcontroller's ports or with any implementationset (includingArduino).
For proper operation, it is sufficient to connect the power of the relay and the digital control signal. Leads are the standard strip goldpin with pitch 2.54 mm which enable to connect via connecting cables.
Examples of application
Driver of lighting
The driver of actuators
Switch for electric devices, including motors
Connection
The module has four input / outputVCC, GND, IN. To work correctly, you must connect the power supply 5 V to the VCC pin, mass GND and the input signal IN. Indicating the low state (the potential of the mass) switches the relay contacts. Disabling the IN lead or indicating the high position, switches the relay to its initial state.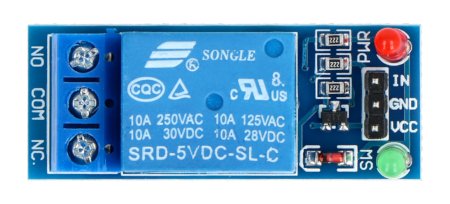 Providing low sttae, switches the contacts of relay and makes the connection between the COM (the middle contact) and NO, seperates COM and NC. This operation is also signaled the illumination of the green led.