Description: Li-Pol / Li-Ion / Li-Fe / Ni-Cd / Ni-MH charger with SkyRC IMAX B6 mini USB balancer
SkyRC IMAX B6 mini is a simple and universal charger that works with most of the cells used in robotics and modeling. Large, easy to read display and intuitive user interface allow you to select appropriate parameters and constantly monitor the battery status during charging. A set of adapters ensures trouble-free charging ofLi-Pol, Li-Ion, Li-FecellsandNiCd, NiMH and Pb packages.
The built-in balancer guarantees correct and even charging of all cells in the packages. The charger can also be connected to a computer via a microUSB socket to control parameters.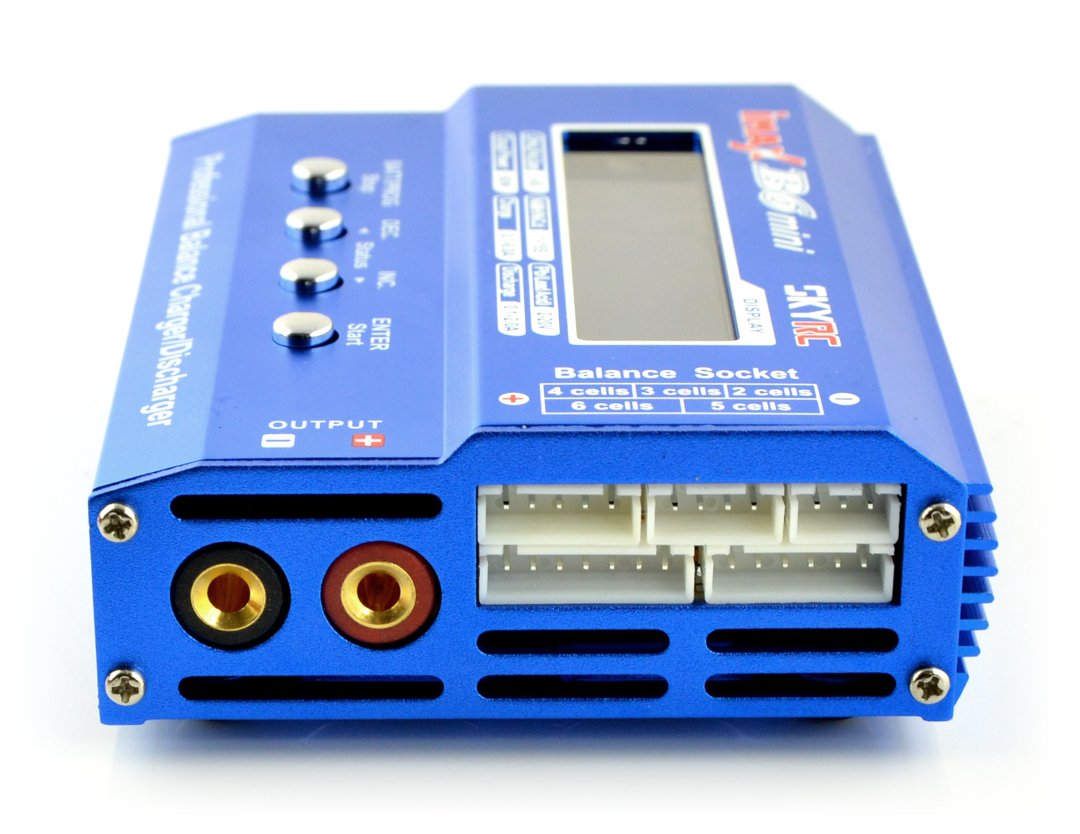 The kit does not includea mains adapter, it must be purchased separately.
Parameters
The voltage of the charger itself: DC from 11 V to 18 V
Power output:

max. charging power 60 W
max. discharge power 5 W

Charging current: 0.1 A to 6.0 A
Discharge current: 0.1 A to 2.0 A
Number of NiCD/NiMH cells supported: 1 to 15 cells
Number of Li-Po/Fe/Ion cells supported: 1 to 6 cells
Pb/gel batteries supported: 2 V to 20 V
Connection and control via computer
4 programming buttons
Built-in sockets:

sockets for balancer adapter + adapter 2-6 S
sockets for the DEAN plug for charging (corresponding guides are included)
Jack type socket (12 V DC power supply)
Jack socket for optional temperature sensor
microUSB socket

Dimensions: 102 x 84 x 29 mm
Weight (without wires): 233 g
Set contents
SkyRC IMAX B6 mini charger
Adapter with adapter for balancer sockets
12 V DC power cord (Jack - Crocodile)
DEANS adapter ->crocodiles
DEANS adapter ->servo socket
DEANS adapter ->candle holder
DEANS adapter ->TAMIYA
Crocodile adapter ->Jack (to power the charger from a 12 V battery)
Operating instructions in English