Description: micro:Maqueen with front loader - robot platform for micro:bit - DFRobot ROB0156-L-1.
Robot platform micro:Maqueen for micro:bitminicomputer designed to learn programming androbotics for the youngest. The set also includes a mechanical charger based on a servo. The platform is designed for children aged8+. The robot can be controlled wirelessly using the micro:Gamepad.
Main features of micro:Maqueen and front charger
Support for Makecode (soon also Scratch and Python).
Small dimensions.
High quality, high powermotor, made entirely of metal.
Wheels made of ABS covered with silicone tyre.
Motor cover fastened with a screw and nut.
Features such as: line tracing, ambient lighting.
It is equipped with, among others, LEDs, buzzer, ultrasonic sensor.
POM bearing wheel, flexible and reliable, ability to overcome obstacles.
Easy to install, easy to use.
Supports Maqueen 4.0 and newer.
Supports MaqueenPlus.
Servo with high quality metal sprockets.
Metal connecting plate for easy installation of the servo.
Servo range from 0° to 180°.
Excellent quality materials made of aluminium alloy, oxidised by sandblasting.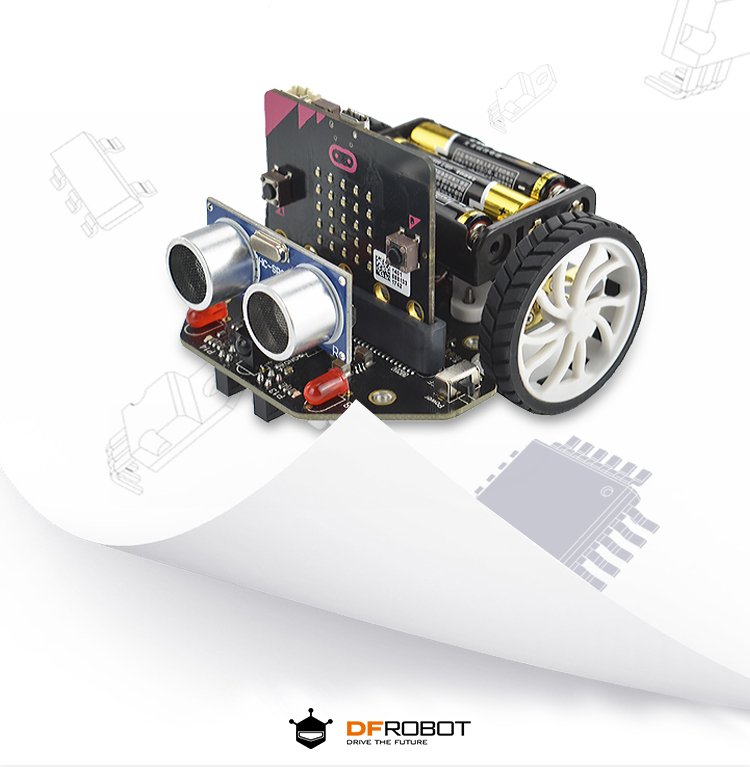 Micro:Maqueen platform.
Specifications of the micro:Maqueen platform and front loader.
Technical Specification
Power supply voltage:

from 3.5 V to 5 V (AAA batteries or 3.7 V Li-Pol package - not included)

Tracking the line:
2x IR (digital input)
Buzzer:
1x
LED:
2x (digital input)
RGB LED:
4x - programmable
Ultrasonic sensor:

SR04, SR04P, 4-pin connector (5 V)

I2C interface:

x1 (3.3 V)

DC motor:
x2 N20
Engine repositioning:
1:150
Engine speed:
133 rpm
Motor control mode:
PWM
Holes for handles and covers:
6x M3 hole
Programming tools:

MakeCode online editor

Mind+ (based on Scratch 3.0)

Mass of the cheese:
12 g ± 1 g
The range of servo work:
from 0° to 180°
Toothed gears:
metal
Servo connection plate:
metal
Charger control ports:
S1, S2, S3 (MaqueenPlus)
Standby power consumption:
up to 45 mA
Dimensions:

85 x 81 x 44 mm

The weight:

75,55 g
The set includes
Robot platform micro:Maqueen
2x a circle
Sensor HC-SR04
AAA battery basket
Double sided tape
Servo with metal sprockets
Metal charger / shovel
Metal plate for servo connection
2x copper distance M3 x 15 mm
5x M2.5 x 5 mm screws
8x M3 x 5 mm screws