Product description: SparkFun MicroMod Main Board - Double - base board for MicroMod - SparkFun DEV-18576
MicroMod Main Board Double - a base board from Sparkfun designed for prototyping with other MicroMod series extensions. The SparkFun MicroMod Main Board Double version features three MicroMod M.2 connector slots, allowing you to connect any MicroMod processor board that is part of the SparkFun MicroMod ecosystem, plus two peripherals. The board also features two Qwiic connectors, a JST connector for battery connection, and a memory card slot.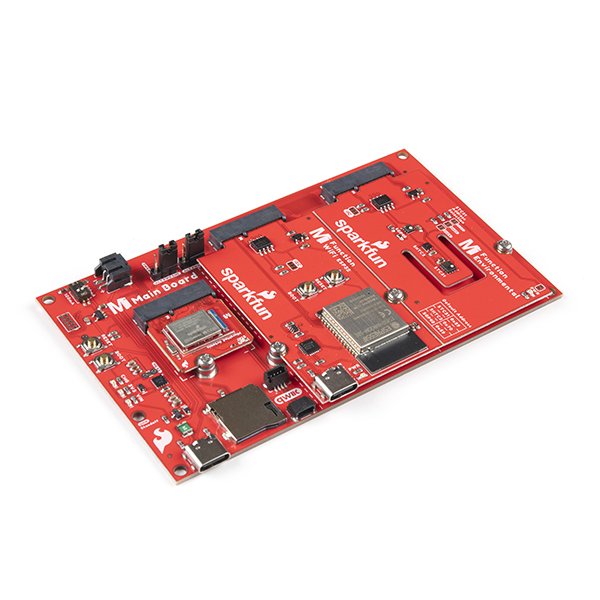 Example of peripheral device connection. The subject of sale is only SparkFun MicroMod Main Board - Double.
What is MicroMod? What is MicroMod?
MicroMod is a modular interface ecosystem that allows you to easily and quickly connect your SparkFun MicroMod microcontroller to various peripherals - sensors and accessories. The system uses the M.2 standard, so you can quickly and seamlessly exchange available processor boards, depending on your current needs. This solution significantly simplifies the whole prototyping process.
SparkFun MicroMod Main Board Specification - Double
3x M.2 MicroMod connector

1x slot for plugging in MicroMod processor
2x slot for plugging in a peripheral device

2x Qwiic connector, allowing you to expand the system with additional peripherals
1x USB type C connector for power and programming
1x connector to connect the Li-Pol battery (2-pin JST)
1x slot for microSD memory card
1x SWD 2x5
Boot and Reset buttons
3x LEDs
Built-in voltage regulator AP7361C: 3.3 V / 1 A
Built-in resetable PTC fuse (rated at 5 V / 2 A)
Supply voltage:

5 V via USB C connector
3.7 V to 4.2 V via Li-Pol battery connector
Kit contents
SparkFun MicroMod Main Board - Double - base board for MicroMod - SparkFun DEV-18576 - 1 piece
Screw M2.5 x 3 mm - 4 pieces
2-pin jumper - 2 pieces