Description: DT71 meter with microsignal generator
DT71meterin the form of a small tweezers allows you to make measurements of resistance, capacitance, inductance, frequency and voltage. The input voltage with which the meter is able to work is in the rangefrom -5 V to 50 V. It also allows for testingdiodesand circuit continuity. The device consists of three components, a main controller,tweezers, and interchangeable tweezer tips. The DT71 also features asignal generatorcapable of outputting waveform signals.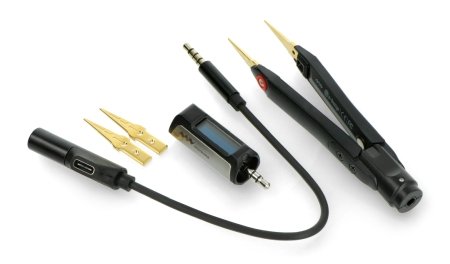 The tweezer meter consists of 3 elements. The controller, the arms of the tweezers, and interchangeable ends of the tweezers that are also measuring probes.
Mobile meter in the form of tweezers
The miniature size of the device in connection withefficient battery power supplymakesthe meterportable literally everywhere. The set includes also a special case, in which we can carry all elements of the set, including the charger. Built-in batteries allow for uninterrupted operation forabout 10 hours. Using the meter is very convenient. In the upper part of the controller there is a touch button used to control the device, additionally inside the tweezers' arms there aremagnetsproviding the so calledmagnetic flexibilitywhich makes the work even more ergonomic.
A versatile tool adapted to your preferences
The meter is comfortable to use for both right- and left-handed people. TheOLED displayon the controller module automatically changes its orientation depending on the position in which you hold the device. The controller itself can befreely rotatedso that the work with the meter is fully comfortable and adjusted to our preferences. The meter also has a function toautomatically identify the componentthat is currently being tested and will show its parameters. The meter also allows you to make measurements on SMD components. This function is extremely useful when we need to quickly identify the components we are dealing with.
Specification
Parameter
Range
Voltage

1 mV to 100 mV (resolution: 1 mV accuracy: 2% + 5)
0.1 V to 40 V (resolution: 0.1 V accuracy: 1% + 3)

Resistance

0.1 Ω to 1 kΩ (resolution: 0.1 Ω accuracy: 0.5% + 2)
1 kΩ to 2000 kΩ (resolution: 1 kΩ accuracy: 0.5% + 2)

Capacitance

0.1 pF to 1000 pF (resolution: 0.1 pF accuracy: 2% + 3)
0.001 uF to 400 uF (resolution: 0.001 uF accuracy: 2% + 3)

Inductance

1 uH to 1000 uH (resolution: 1 uH accuracy: 5% + 3)
1 mH to 50 mH (resolution: 1 mH accuracy: 5% + 3)

Frequency

10 Hz to 1 KHz (resolution: 10 Hz accuracy: 0.1% + 3)
1 KHz to 20000 KHz (resolution: 1 kHz accuracy: 0.1% + 30

Temperature measurement

no

Source impedance

1 mΩ

Automatic range selection
yes
Standby mode
no
Sounder
no
Transistor tester
no
Diode tester
yes
Battery tester
no
Data Hold function
no
Battery indicator
no
Backlight
yes
Flashlight
no
Display
OLED (96 x 16 mm)
Device length

Tweezer: 106 mm
Controller: 47 mm

Power supply
built-in rechargeable battery (continuous operation up to 10h)
Weight
22 g