Inverter parameters ST1S10PHR
Power supply voltages: 2.5 V to 18 V
Output voltage: 0.8 V - 15.3 V
Maximum output current: 3 A
Horizontal efficiency 90 %
Frequency: 400 kHz to 1,2 MHz
Pulse inverters are much more efficient than linear stabilisers. However, they require more additional external components. Incorrectly designed can be a source of interference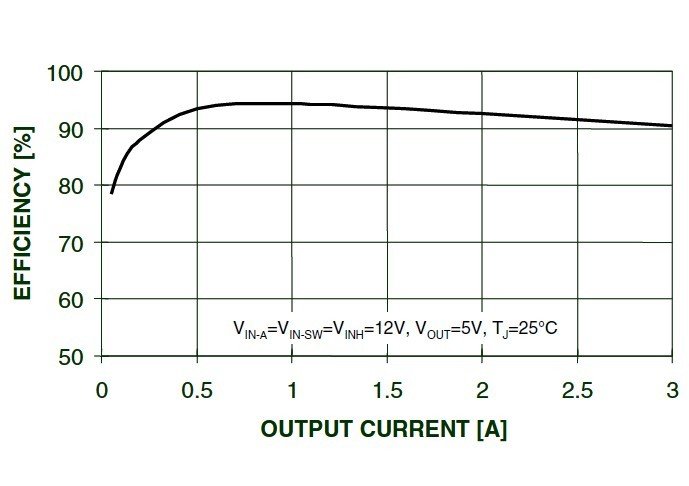 A diagram showing the dependence of system efficiency on current.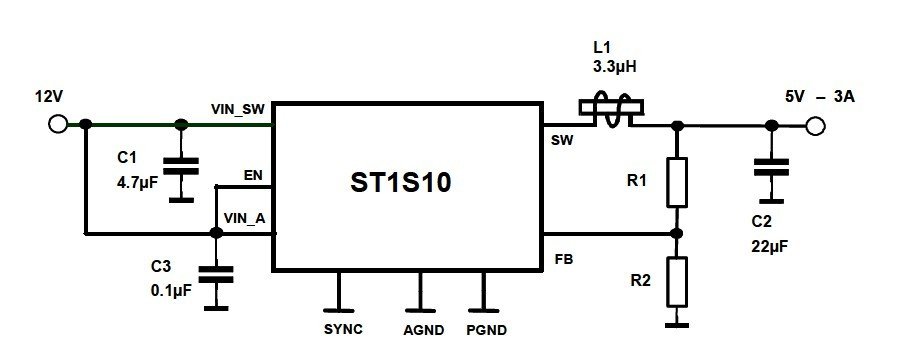 A diagram showing the use of the system as a 5V stabiliser.
The selection of coils and capacitors is described in detail in the documentation .
Resistors are calculated from the formula:
R1 = R2 x (Vout - Vfb) / Vfb
Vout - the output voltage we want to achieve
R2 - typical recommended value of 20 kOm
For Vout = 5V, the value of R1 will be 105 kOm.
To calculate the value of external elements you can use the calculator available atwww.masterlab.com.pl.
PCB design
When designing a PCB, special attention should be paid to the supply of mass to the system. Pathways should be thick. Capacitors as close as possible to the inverter pins. In thedocumentationthe manufacturer suggests how the elements should be placed.