‌
Product description: 10W laser head module for Creality printers
Turn your 3D printer into a laser plotter in seconds! The easy-to-install 10-watt laser head does not require any software changes, you can enjoy precise cutting and engraving immediately after mounting it . The laser operation is controlled using the control panel included in the set. The module is compatible with many models of Creality printers.
Perfect precision
The works coming out from under the Creality laser will be refined to the smallest detail. The head uses a system of six lenses, thanks to which the thickness of the laser spot is only 0.06 mm . This is a guarantee of precisely burnt, sharp edges.
10 watt laser diode
The 10W laser can work with a very wide range of materials. It can engrave even thick materials like stainless steel. With just one cut, the laser is able to cut through a 12mm wooden board. The maximum thickness of laser cutting is 18 mm.
Wide compatibility with printers
The head is compatible with: Ender-2 Pro , Ender-3 , Ender-3 Pro, Ender-3 Neo, Ender-3 Max Neo, Ender-3 S1 Max, Ender-3 V2 , Ender-3 V2 Neo , CR-10 , CR-10 mini, CR-10S, CR-20, CR-20 Pro, Ender-3 S1 , Ender-2 and also DISWAY-01.
One button control
The set includes a control panel. There is only one button on it, which is used to control the cutting or engraving process. With it, you can start, pause and end your work, and turn on the preview. The button has a backlight that informs about the status of the device.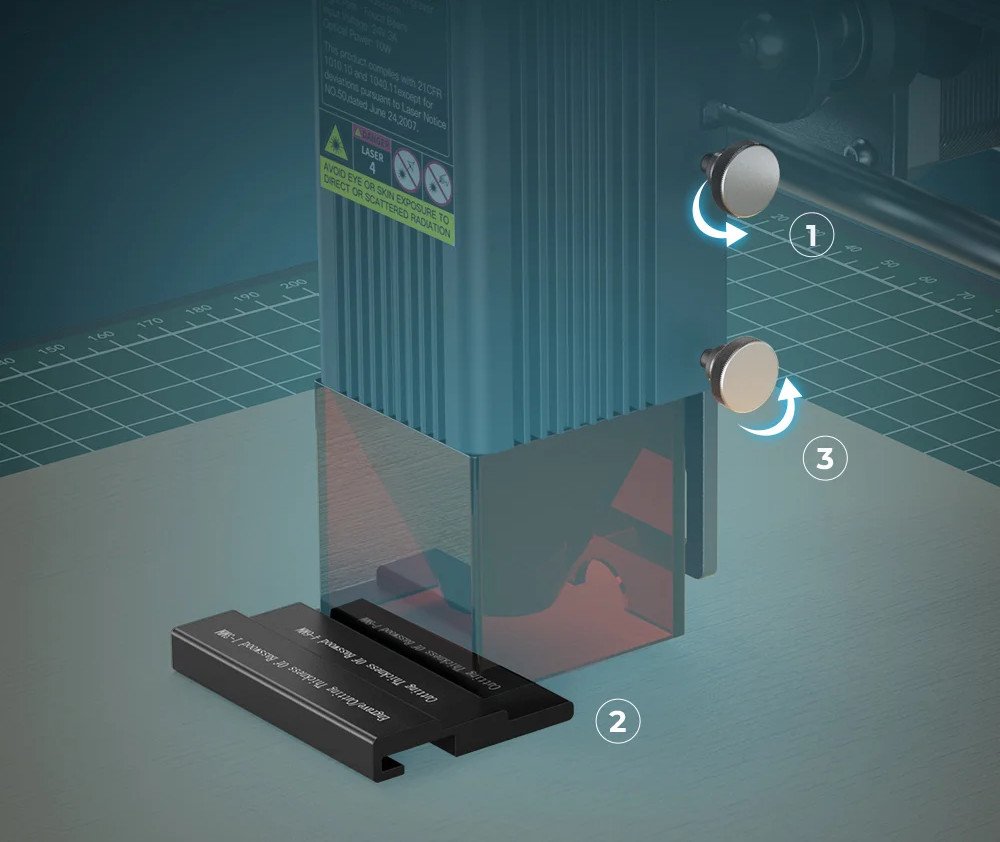 Thanks to the block included in the set, laser calibration is easy and quick.
Quick calibration
The included block helps to focus the laser spot. Just loosen the head screw, move the head so that it touches the pulley and tighten the screw. The focusing process will not be difficult even for beginners and will guarantee the highest precision of the laser.
Working offline
The control panel has a slot for TF memory cards, just import the file to the device and you will be able to cut and engrave anywhere you want, without the need to connect to a computer .
TECHNICAL SPECIFICATIONS
Laser Power:
10W
Source of light:
semiconductor laser
Laser spot size:
0.06 x 0.06mm
Laser wavelength:
455nm (+/- 5nm)
Engraving Resolution:
254 dpi
Cutting Thickness:
from 0 mm to 18 mm (depending on the material)
Software:
LaserGRBL, LightBurn
Supported Files:
.svg, .png, .jpg, .jpeg, .bmp, .dfx
Working voltage:
24V/3A
Working temperature:
from 0°C to 35°C
Product Weight:
1.1 kg
Compatible materials:

Engraving : wood, bamboo, rubber, leather, fabric, acrylic, lacquered metal, plastic, stainless steel
Cutting : paper, wood, bamboo, fabric, leather, PVC, acrylic, plastic