Specification
Supply voltage: 5 V to 24 V
Power consumption for 5 V: 15 mA
Measuring range: from 0.3 to 6 l/min
Operating temperature: to 80 °C
Permissible humidity: 35 % - 90% RH
Permissible water pressure: 0.8 MPa
The number of pulses per litre: 73
Mounting on a pipe with a diameter of M11x1.25
Material: plastic
Dimensions: 58 x 34.9 x 26.7 mm
Description
A simple sensor for measuring the flow of liquids. Consists of a pinwheel that has a magnet and Hall sensors. By counting the pulses of a hanging fan, in a simple way, you can measure the flow of liquids. With this method, the electronic part of the sensor has no contact with water.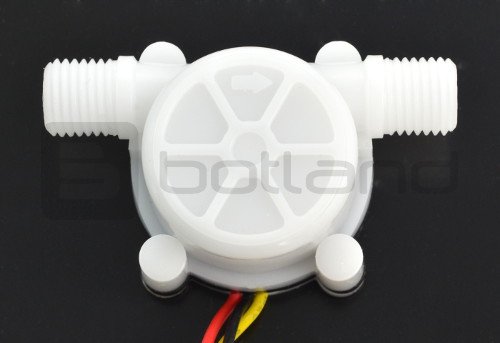 The device has three wires:
red- supply voltage from 5 V to 24 V
black- ground
yellow - pulse output signal
By counting pulses you can track the fluid flow in a simple way. It should be noted that this is not a sensor for precision measurements. However, it is ideal for use in hobbies that do not require greater accuracy than 10 %.
The product is compatible with Arduino 
The manufacturer provides a sample program for Arduino with connection diagram. The project is available in theuser's guide.